As an Amazon Associate, I earn from qualifying purchases.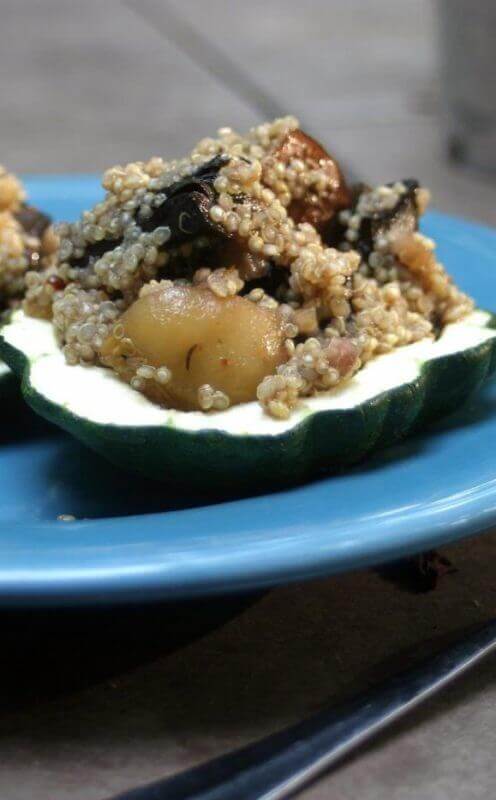 It's time for my vegetarian Thanksgiving menu. Wow. Seriously? It's almost Thanksgiving? How on Earth did that happen? It was just Halloween. OK, OK, I can do this. I have green beans and mushrooms. I. Can. Do. This.
Wait…you need some help, too? Oh good, I'm not the only one. Here's a quick vegetarian Thanksgiving menu for you to use this year if you're like me and it snuck up on you.
Also, check out my tips on not going completely insane in the kitchen this Thanksgiving. Since we've got two weeks, you could stretch it out and have a rest day in between each prep day. We can do this.
I have to pre-explain one of my main dishes. And the one I'll for sure make this year. It's lasagna. Yes, I know it's probably not the one you'll make. You'll make the stuffed acorn squash maybe? It's cool, I understand. I might make that, too.
We'll have 10 people. We're even making a real turkey this year for the meatatarians. Gasp. But, growing up, we always had cheese lasagna. So, I'm nostalgic and I make it for most years. Sometimes with lentils or some sort of beefy stand-in, sometimes just good ole cheese.
It's odd. But to me, the first holiday lasagna of the year rings in the holiday season as nothing else will.
Vegetarian Thanksgiving Menu
Main Dish
Check out this great holiday centerpiece recipe, Vegan Stuffed Acorn Squash. It's filled with delicious quinoa, lentils and yummy spices for a true celebration of flavor.
Maple and Dijon mustard pair up in a delicious holiday glaze that is absolutely fabulous on this vegetarian "turkey" roast.
Stay with me. This is our family tradition, I know, it's a little different. We do lasagna for Thanksgiving and Christmas because my sister and I became vegetarians in an era when it wasn't really a thing to have faux turkey in the grocery. So, my mom made delicious lasagna for us and we love it and now it's nostalgic and we still make it alongside the cool acorn squash fancy adult dishes.
Side Dishes
A vegan, gluten-free Thanksgiving side that can hold its own as a main, Butternut Squash Quinoa Stuffing is filled with butternut squash, cranberries, and walnuts.
Hello! It's full of deliciousness and none of the junk. Homemade cream of mushroom soup, fresh green beans, and crunchy French fried onions. Bring on the big plates.
Canned cranberry sauce is chock full of high fructose corn syrup and other nasty stuff. So make your own delicious homemade sauce!
I use red potatoes along with cream cheese and herbs, but this recipe works great with creamers or goldens, too.
Sweet potato crisp is a little creation of delicious sweet potato slices topped with a crumble of oats, brown sugar, cinnamon, nutmeg, ginger, and butter.
Just leave out the bacon or replace it with black forest bacon in this delicious blend of fresh peas, cheddar, red onion, and dressing.
This caramelized Brussels sprouts recipe made me an addict! And my daughter loves them, too. Yum! She calls them "Candy Cabbages." Cutie. 🙂
I'll be honest, I've never actually had real sausage balls and I didn't know they were a holiday treat until I started noticing the post was popular around Thanksgiving and Christmas. So, I asked around, and apparently it's a popular appetizer for holiday gatherings. I learned something from you guys visiting my site! 🙂 These tasty little vegetarian or vegan sausage balls are easy to whip up with Bisquick, (dairy-free) cheese and meatless crumbles. Give it a try.
Desserts
Maybe you don't know this, but I LOVE pumpkin. My husband's not a huge fan. When he first tasted Paleo pumpkin custard, he went for seconds! Of pumpkin! HUGE hit!
Here is a tasty Pumpkin Cream Cheese Pie recipe for your family's dessert table that requires no can of evaporated milk. Win! If you have fresh pumpkin, you can make this pie with no can at all.
This Paleo sweet potato pecan pie recipe is custardy, sweet, tasty, and has a cookie crumb/pecan crust that is absolutely perfect. Perfect for dessert or a snack!
This is one of our all-time faves. Vegan Pumpkin Walnut Bread made moist through the inclusion of a can of coconut milk and you can make it either with or without the walnuts. Yum. I have the oven-baking and bread machine instructions for you. 
Oh my gosh. This is one of those recipes that I originally made way back in the early days of blogging and I sorta (gasp) forgot about it. I made them again recently for a scouts Halloween party and they are fabulous. We make them gluten-free, but you can make them with all-purpose flour if you like. And pumpkin cream cheese muffins are such an amazing surprise. I love bringing these to parties and seeing the joy on friends' faces. Plus, they're delicious!
Caribou-poached pears are a delicious mixture of cranberry juice and fall spices. It's a dessert worthy of holiday dinners, but simple enough for every day.
This syrup is fantastic, you guys. It's wonderful in lattes, cheesecake, ice cream. You need to make it for all the things. You definitely won't miss the store-bought kind once you make this syrup.
Leftover Meals
Thanksgiving salad is the perfect way to enjoy leftovers. After a day of culinary debauchery, we take a break and have our leftovers mixed into a green leafy salad.
Vegetarian Turkey Mac and Cheese is a simple dish using leftover Turk'y Roast, carrots and roasted onions, with cheese and pumpkin puree for the sauce.
Delicious turkey sweet potato quesadillas with sweet potatoes, onion and garlic. Serve them up with cranberry sauce as a dip for your post-holiday leftovers.
These are a real treat. Slide a pat of cream cheese in for an extra layer of fantastic flavor. 
You can use these ideas with vegetarian or meaty leftovers. Go for it!
The Super Easy Vegetarian Slow Cooker Cookbook
Want more vegetarian and vegan recipes you'll love? Check out my first cookbook! I'm so excited about it and I hope you'll love it. You can find more information about it right HERE. Or you can buy it through the Amazon link below.

The Super Easy Vegetarian Slow Cooker Cookbook
Want vegetarian and vegan recipes you'll love? Check out my first cookbook! I'm so excited about it and I hope you'll love it. You can find more information about it right
HERE
.