As an Amazon Associate, I earn from qualifying purchases.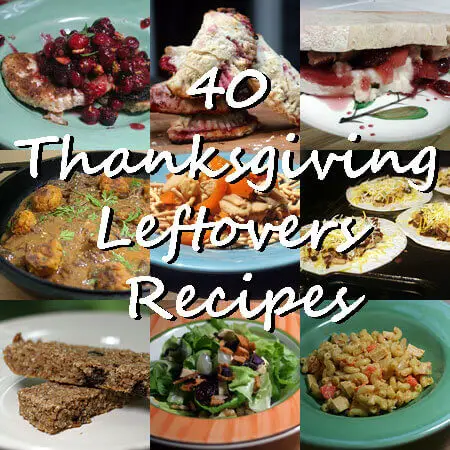 If you're like most families in the U.S., you have a lot of leftover turkey (or tofurky), stuffing, potatoes, green beans, and other sides. So, what do you do with it all?
First off, be sure to freeze anything you KNOW you won't eat within four days. If you have two leftover turkeys and only four people in your family, portion it out and freeze it so you can enjoy turkey again later on. After that, get creative!
What's your favorite leftover creation with Thanksgiving leftovers? I'm really partial to the cranberry sauce empanadas (See Stone Fruit Empanadas).  And, of course, there's the classic sandwich made with a bit of everything. Yum! So good.
My current fave is turkey slices, cranberry sauce, mashed potatoes, and some green bean casserole. I might add some quinoa stuffing this year, who knows?
Turkey/Tofurky
Substitute cubed leftover tofurky/turkey for the following "chicken" recipes.
Ham
Mashed Potatoes
Cranberry Sauce
This post shared at Gallery of Favorites, Fresh Bites Friday, Friday Favorites, Frugal Fridays and I'm Lovin' It.
The Super Easy Vegetarian Slow Cooker Cookbook
Want vegetarian and vegan recipes you'll love? Check out my first cookbook! I'm so excited about it and I hope you'll love it. You can find more information about it right
HERE
.