As an Amazon Associate, I earn from qualifying purchases.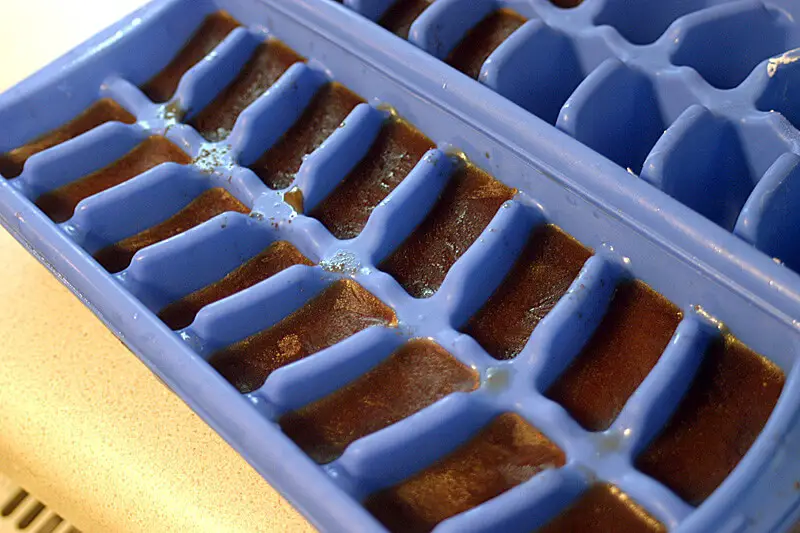 Mmm…fishy ice cubes. Yes, that's what I'm cookin' up in my kitchen today! Yum, yum, give you some, right? Hah! I always make up a big batch of vegan fish sauce whenever a recipe calls for it, and then I end up using like 2 tablespoons of it and losing the rest of it to the refrigerator monster (it gets lost somewhere in the back for so long that I end up dumping it out).
But no more fishy sauce for you, fridge yeti! I came up with a master plan to elude you. I'm trying out a new recipe that makes a ton of vegan fish sauce (about 2 cups). And…wait for it…I'm freezing it in tiny 1 tablespoon ice cubes in my ice cube trays.
Then, the next time I make a recipe calling for fish sauce, not only do I not have to look up the recipe, but I also can just thaw out a cube or two and be done! Win!
Homemade Vegan Fish Sauce
Ingredients
1 quart water
1 tablespoon granulated garlic
1 teaspoon red pepper flakes
1.76-ounce package Emerald Cove kombu (rinsed briefly under cold water)
1 1/4 cups dried shiitake
1/2 cup soy sauce
1 tablespoon cane sugar
2 teaspoons Kosher salt
1 tablespoon peppercorns
1 teaspoon ground ginger
2 tablespoons rice vinegar
Juice of 1 lemon
Juice of 1 lime
Method
Mix ingredients.
Pour into ice cube trays and freeze into individual servings.
Try it in recipes like Thai Peanut Sauce, Broccoli Salad, Banh Mi Sliders, Thai Dumplings and Vegan Sushi Salad.
Adapted from Vegetarian Fish Sauce.

Recipe Source: VeggieConverter.com
This post is shared with Real Food Wednesday, Whole Food Wednesdays, What's Cooking Wednesday, Works for me Wednesday, These Chicks Cooked and Bake with Bizzy, Hearth and Soul Hop.
The Super Easy Vegetarian Slow Cooker Cookbook
Want vegetarian and vegan recipes you'll love? Check out my first cookbook! I'm so excited about it and I hope you'll love it. You can find more information about it right
HERE
.