As an Amazon Associate, I earn from qualifying purchases.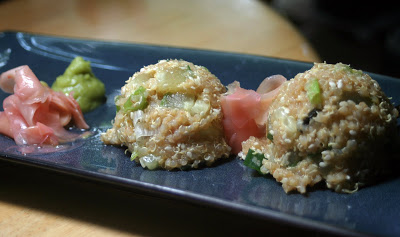 Day 221.
We're big sushi fans here, but, as a vegetarian, I don't get a whole ton of selection at the average sushi bar. There are some great veggie rolls, but usually only about four kinds. So, I sometimes break down and make my own. This sushi salad looks so creative, and so much simpler than sushi, I had to try it.
Sushi Salad
Adapted from Sushi Salad.
Ingredients
Quinoa:
1-1/2 cups water
1/2 teaspoon table salt
3/4 cup quinoa, rinsed
Sauce:
1 tablespoon vegan fish sauce (See Thai Style Dumplings for a homemade recipe)
1 tablespoon soy sauce
1 tablespoon sugar
1/4 teaspoon cayenne pepper (the inspiring recipe uses this plus 1/2 teaspoon red pepper flakes)
1/2 teaspoon minced garlic
Veggies:
1 teaspoon finely chopped pickled ginger
5 green onions, white and green parts both, chopped
1 cup chopped English cucumber
1 teaspoon sesame seeds
Directions
Bring the water and salt to a boil. Add the quinoa, cover and let simmer for about 10 minutes. Turn off the heat but leave the covered saucepan on the burner for another 4 minutes. Fluff with a fork and allow to cool.
Mix all the sauce ingredients. When the quinoa is cool, stir it into the sauce until well-combined.
Stir in all the veggies and refrigerate. When ready to serve, scoop onto plate with an ice cream scoop.
Results
This was pretty good and so creative. I think, if we make it again, I'll mix in some chopped nori.
This post is shared at·Tuesdays at the Table,·Slightly Indulgent Tuesday,·Tasty Tuesday, Delectable Tuesday,·Tempt My Tummy Tuesday,·Delicious Dishes,·Real Food Wednesday, Recipe of the Week, Hearth and Soul, and Tasty Tuesday.
The Super Easy Vegetarian Slow Cooker Cookbook
Want vegetarian and vegan recipes you'll love? Check out my first cookbook! I'm so excited about it and I hope you'll love it. You can find more information about it right
HERE
.