As an Amazon Associate, I earn from qualifying purchases.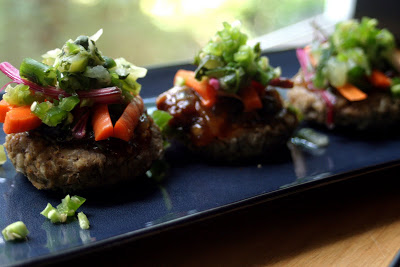 Day 194.
I had to try another burger recipe after those delicious Japanese Sliders with Wasabi Ketchup turned out so well last week. I have been wanting to try Banh Mi sandwiches, but am just unsure about how to do the pulled pork well, veggie style. I recently saw a squash pulled pork, but haven't had time to try it out. So, when I saw these Banh Mi Burgers, I figured I could have the best of both worlds: burgers that I know work well, plus the Banh Mi toppings. I also had a ton of jalapeno, carrots and cucumbers from recent CSA boxes and recipe leftovers.
Banh Mi Sliders
Adapted from Banh Mi Burgers with Vietnamese Caramel BBQ Sauce .
Ingredients
1/2 cup breadcrumbs
1/4 cup soy milk
1 tablespoon garlic, minced
1 tablespoon ginger, minced
2 tablespoons onion, minced
1 handful cilantro, chopped
1 tablespoon vegan fish sauce (See Thai Style Dumplings for a homemade recipe)
1 tablespoon caramel sauce (see below)
1 jalapeno, diced
1/4 cup caramel sauce (see below)
1/2 cup pickled carrots and daikon radish (I subbed chard stems for the radish)
12 slices cucumber
2 jalapeno peppers, diced
cilantro to taste

Caramel Sauce Ingredients

1/4 cup sugar
2 tablespoons water
2 tablespoons water
2 tablespoons fish sauce
1 lime (juice)
1 birds eye chili, sliced
1 clove garlic, chopped
1 shallot, finely diced
2 teaspoons cornstarch
1 tablespoon water
Directions
Make caramel sauce by melting the sugar into the water over medium heat and simmering until it turns a deep golden brown. Mix the water, fish sauce and lime juice and carefully add the water, heating until the caramel dissolves. Add the jalapeno, garlic and shallots and simmer to reduce by half, about 3-5 minutes.
mix the cornstarch into the water, mix it into the sauce and simmer until it thickens, about a minute.
For burgers. Let breadcrumbs soak in soy milk for about 5 minutes, until liquid is absorbed. Thaw your "ground beef," if necessary. Mix beef, soaked breadcrumbs, garlic, ginger, onion, cilantro, fish sauce and jalapeno into bag or bowl.
Form the mixture into 8 patties.
Grill over medium heat until cooked, about 3-5 minutes per side.
Top with caramel sauce, pickled vegetables, jalapenos and cucumbers.
The Results
Sometimes I skip barbecue sauce recipes and use my own. But, since this one was sort of a Thai barbecue sauce, I didn't. I am so incredibly glad I didn't skip this one. The sauce alone made this recipe worthy of a repeat. We put ours on top of the burger, instead of inside like the original. I was a little afraid of two things: the sauce might be two hot for the kids or too runny to allow the lentil-rice burger patty to hold together. But now I'm just glad I left it on top so it wasn't masked by any other flavor. It was so fantastic. The pickled vegetables weren't terribly pickled, I thought. Which is both a good and a bad thing. I am not a fan of pickles, so I thought I wouldn't be terribly likely to enjoy pickled anything. My husband and Bug are big fans. They both thought the vegetables were yummy, but not what we were expecting. Overall, these sliders were fantastic. A definite repeat.
This post is shared with Real Food Wednesday, Recipes I Can't Wait to Try, What's Cooking Wednesday, What's on Your Plate?, What's on the Menu Wednesday, Let's Do Brunch, Works for me Wednesday, Gold Star Wednesday, These Chicks Cooked, Foodie Wednesday, Cast Party Wednesday and No Whine Wednesday.
The Super Easy Vegetarian Slow Cooker Cookbook
Want vegetarian and vegan recipes you'll love? Check out my first cookbook! I'm so excited about it and I hope you'll love it. You can find more information about it right
HERE
.