As an Amazon Associate, I earn from qualifying purchases.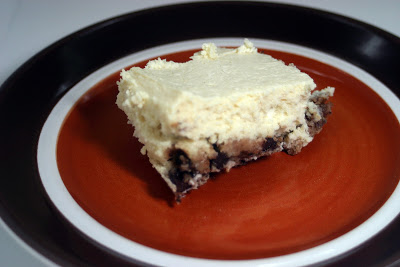 Day 273.
Vegan MoFo (Vegan Month of Food) 2011 starts tomorrow. I'll be participating for the first time this year. So, as a last hoorah with eggs and cheese for a while, I decided to make Crock-pot Cheesecake with a chocolate chip cookie crust. I'm a huge fan of Stephanie's recipe for crock-pot cheesecake. I've made it plain and with variations of lemon, key lime, pumpkin and blueberry. But I've always used either animal crackers or graham crackers as the crust. Today, I had some leftover (don't look at me like that, I overbaked the first batch…otherwise there's no such thing as leftover cookies) cream cheese chocolate chip cookies. They made a fantastic crust for this perfect and simple cheesecake.
CrockPot Cheesecake with Cookie Crust
Ingredients
Crust:
1 cup chocolate chip cookie crumbs
3 tablespoons melted butter
Filling:
16 ounces cream cheese, room temperature or softened
3/4 cup sugar
2 large eggs, room temperature
1/4 cup whole milk
3 tablespoons vanilla (I tripled this, so feel free to knock it back down if you're not as big of a fan)
1 tablespoon flour
Method
Find a heat-resistant dish that will fit in the crock-pot you plan to use. I used a 7 x 4 baking dish in my 6-quart crock-pot this time. But, in the past, I've often used a glass loaf pan in the 6-quart. And even once did a half recipe in a small mixing bowl in my 4-quart. That was more of a scoopable half-sphere cheesecake. 🙂
I food-processed my cookies into chunky crumbs, but you can also place them in a freezer bag and beat them with a rolling pin. When you're done abusing your cookies, be sure to eat any delicious crumbs over the 1 cup line. Mix the remaining cup with butter and press into the bottom of your baking dish. In a bowl or KitchenAid mixer, cream your remaining ingredients together until smooth. Pour the creamed mixture on top of your cookie crust.
Pour 1/2 to 1 cup of water into the bottom of your crock (you are creating a water bath). Place your dish into the water-filled crock, making sure to not allow water inside the cheesecake. Cover and bake on high for 2-3 hours, checking ever hour (mine usually take about 1 hour, 45 minutes to 2 hours). Your cheesecake is done when the sides begin to pull away from the pan and the center is set or nearly set (not gooey). Turn off the slow cooker and let the cheesecake cool in the crock for about an hour. After that, refrigerate for at least 2 hours before cutting and serving.
The Results
Delicious as always. I think the key lime version (swap the vanilla for 1/4 to 1/2 cup key lime juice and use the original graham crust) is still my favorite, but this is super delicious, too.
This post shared at Fat Camp Friday, Crafty Friday, Friday Favorites, Potluck Friday,·Frugal Fridays, Foodie Friday, Fresh Food Friday and I'm Lovin' It.
The Super Easy Vegetarian Slow Cooker Cookbook
Want vegetarian and vegan recipes you'll love? Check out my first cookbook! I'm so excited about it and I hope you'll love it. You can find more information about it right
HERE
.