As an Amazon Associate, I earn from qualifying purchases.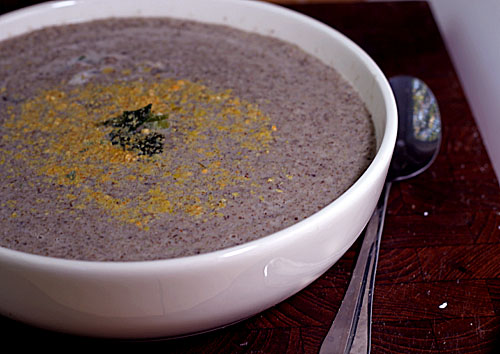 What time is it? It's time for lunch. Those of you without toddlers might not get that…the girls are big "Bubble Guppies" fans. Today I'm sharing Creamy Portabella Soup, adapted from Hungry Girl. I love mushroom soup in other recipes, but it's not something I usually eat on its own. So, I'm trying this out with portabellas to see if that makes it super tasty!
I veganized it by swapping out creamer and chicken broth for coconut milk. I recently bought a HUGE can of it from Amazon, so I have a lot to use. I also left out the Swiss cheese and added an optional "Parmesan" topping.
It smelled absolutely fantastic while I was cooking it. It was hard to blend it up since it looked so pretty with the whole mushrooms, but the blended mushrooms are part of the mock "creaminess," so I made myself do it. It turned out super rich and tasty.
Creamy Portabella Soup
Ingredients
1/4 cup coconut oil
6 cups (about 1 pound) chopped portabella mushrooms
1 cup chopped green onion
1 teaspoon chopped garlic
1 1/2 cups coconut milk
1 teaspoon salt
black pepper, to taste
cayenne pepper, to taste
Top with cheese sauce powder or "Parmesan" if desired
Method
Place coconut oil in a large saucepan, saute mushrooms for 10 minutes. Add remaining ingredients. Heat through. Blend and serve.
The Results
I actually LOVE the flavor. It's delicious and creamy and surprisingly hearty. But I think that it's a little strong as a full-meal soup. It'd be great as a side or as a pasta sauce. I think it'd be absolutely divine as a mushroom "gravy" over mashed potatoes. Yum. If you love rich mushroom soup, I bet you'll love this on its own, too. I think I just needed a smaller serving size. 🙂
This post shared at Gallery of Favorites, Fresh Bites Friday, Friday Favorites, Frugal Fridays and I'm Lovin' It.
The Super Easy Vegetarian Slow Cooker Cookbook
Want vegetarian and vegan recipes you'll love? Check out my first cookbook! I'm so excited about it and I hope you'll love it. You can find more information about it right
HERE
.