As an Amazon Associate, I earn from qualifying purchases.
Day 150.
It's another Monday and this week I'm having
Curried Tofu Breakfast Quesadilla
.

This vegan treat was crafted with our toddler, Bug, in mind. She is a huge fan of curry and quesadillas. Not so much of eggs. So, we went with scrambled tofu. Such a healthy and simple vegan breakfast.
This savory vegan breakfast brings a little exotic flair to your morning routine with a pop of curry in warm scrambled tofu.
Curried Tofu Breakfast Quesadilla
Ingredients
12 ounces Tofu, Firm
2 tablespoons Curry Powder
¼ teaspoons Salt
¼ teaspoons Black Pepper
½ teaspoons Garlic Powder
2 tablespoons Soy Milk, Unsweetened
1 tablespoon Olive Oil
⅓ cups diced Onion
2 teaspoons mince Garlic, Cloves
¾ cups dice Bell Pepper, Green
8 individual Flour Tortillas (6-inch/Small)
4 ounces Cheddar Cheese, Shredded, Dairy Free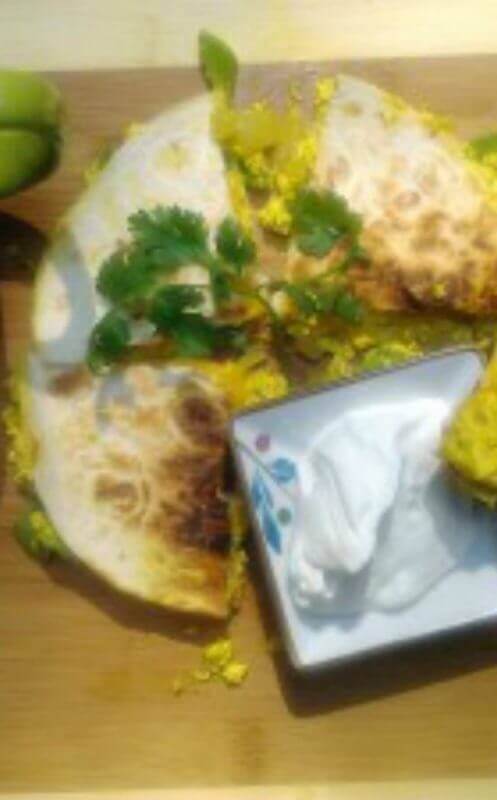 The Results
We all loved these quesadillas. So filling and delicious. Bug's response: "Mmm…hot…mmm, mmm good." She later brought me toys and told me "Happy Birthday Mommy." No, it's not my birthday. Yes, I've convinced myself this was her extended thank you for her yummy breakfast treat.
To participate this week here on Veggie Converter, you will be able to comment or link your Meatless Monday meals while I post my Meatless Monday challenge to myself, Vegan Mondays. If you're a vegetarian or vegan blogger and would like to be featured for Vegan Mondays, link up, or contact
[email protected]
.·
Today's Meatless/Vegan Monday meal is Cook with Sara's Berry-Mandarin Salad. This one could easily be made vegan by replacing the honey with molasses or syrup. Yum. What a great spring-time treat.
Now for the link-up rules: post your link to a meatless (vegan or vegetarian, or even an attempted meatless) recipe that you've posted on your blog.
Next week, a reader recipe that was linked up this week will be highlighted on Meatless (Vegan) Mondays. Each week you link up or comment, gives you an opportunity to be featured the following week.
Please join the Meatless (Vegan) Monday link-up. What Vegan or Meatless Monday Meal is your family having today?

This post is shared at·Mouthwatering Mondays, My Meatless Mondays, Cravings, Menu Inspiration Monday, Just Another Meatless Monday,·Happy Homemaker Monday,·Homemaker Monday.·Meatless Mondays,·Mingle Monday, MMMmonday, Mangia Monday,Make a Food-e Friend and Monday Mania.
The Super Easy Vegetarian Slow Cooker Cookbook
Want vegetarian and vegan recipes you'll love? Check out my first cookbook! I'm so excited about it and I hope you'll love it. You can find more information about it right
HERE
.