As an Amazon Associate, I earn from qualifying purchases.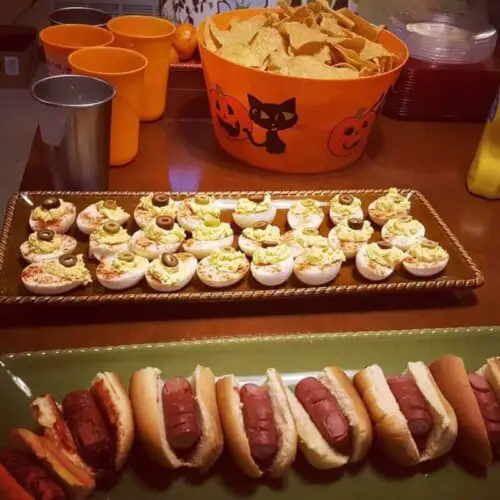 We love Halloween. We often host a kids' party on Halloween weekend complete with fun snacks and games. This year is no different. As I'm planning my Halloween party snacks, I thought to myself, I should share these with you all.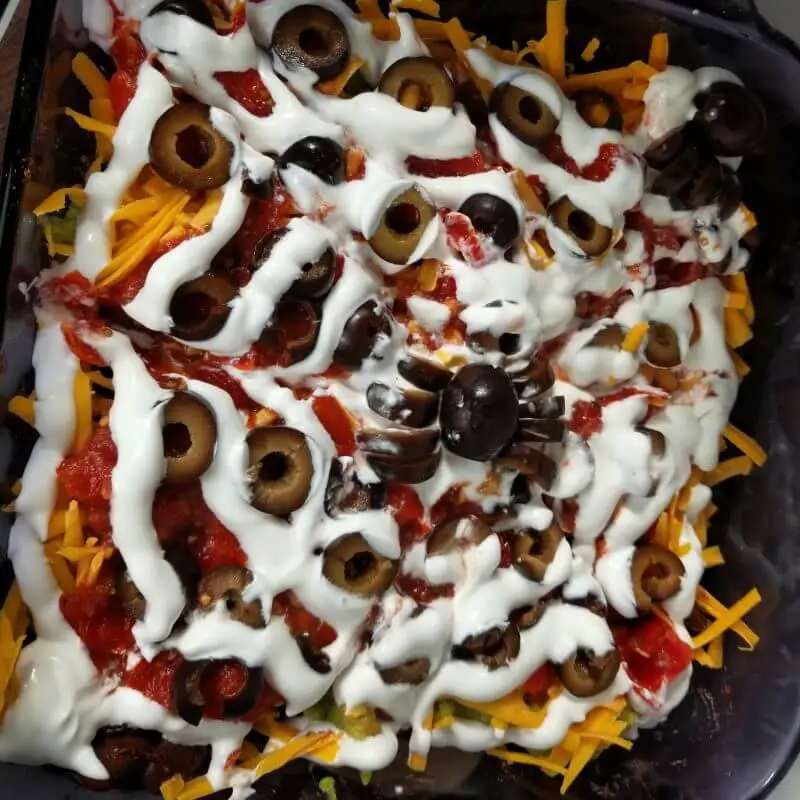 Spiderweb Seven-Layer Dip
Seven-layer dip is one of my go-to party foods. It's pretty simple, really. Refried (or just mashed) beans mixed with taco seasoning, guacamole, sour cream or yogurt, cheese, olives, salsa, and green onions. In this version, you'll want to put the sour cream on top in rings and then drag a knife through it every inch or so to make it into a spider web. You can make spiders out of black olives. Or, buy some little spiders from a party shop if you like.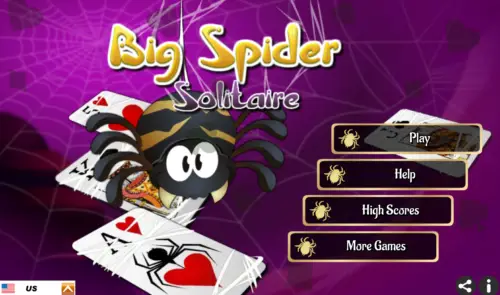 And to go along with your Spiderweb dip? The Big Sider Solitaire Game will keep you entertained while the kids are stuffing their faces. I found it on this really cool Solitaire site that I absolutely love for free Solitaire games. I tend to do Crosswords daily, but I do the free ones in the online paper so quickly that I needed more to do. This site has not only crossword puzzles, but also logic puzzles, solitaire games, hidden object puzzles (Mr. Meaty's favorite), and more. I love the Solitaire.org site when I'm sitting in the waiting room of the orthodontist's office or procrastinating between editing articles or you know, just wanting to veg out a bit. It's great. And, for us food lovers, there are even food-themed games in the mahjong, solitaire, and hidden objects games. How fun is that?! Give it a look.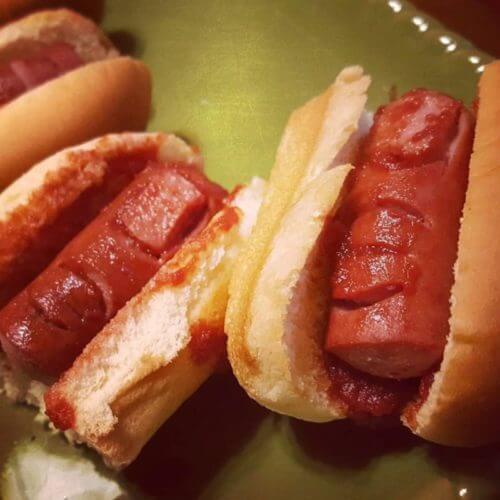 Bloody Hot Dog Fingers
Make these with either veggie dogs or hot dogs. Cut the dogs in half and slice out fingernails and knuckle lines. Then add a bit of ketchup for bloodiness. Delish. Don't do dogs? Do the same technique with baby carrots!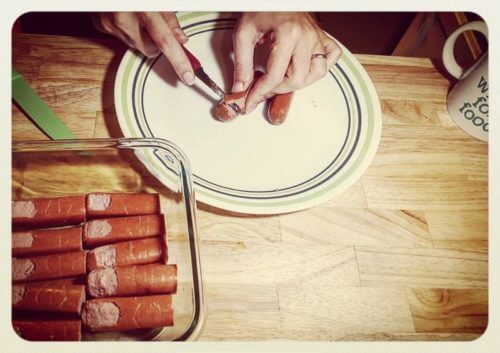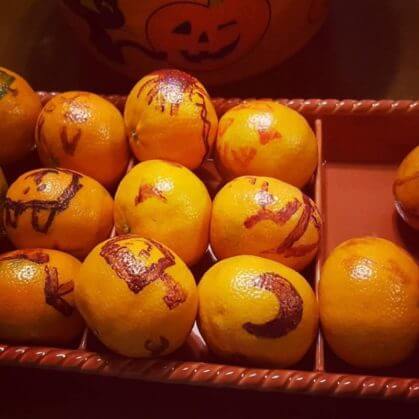 Clementine Jack-O-Lanterns
Those cute little clementines (tiny oranges as my kids call them) that the kids like? Take a sharpie and draw jack-o-lantern faces on them and pile them up on a platter or in a bowl for the kids to peel and eat at the party.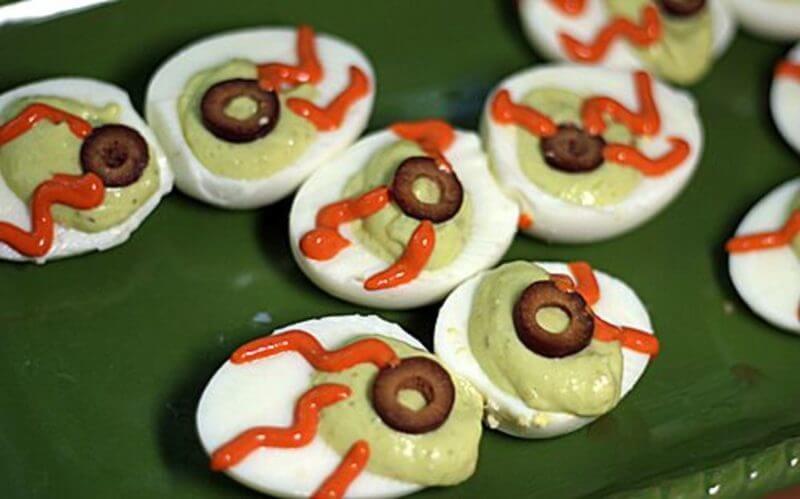 Deviled Eyeballs
Just make deviled eggs mostly as usual, but add a bit of guacamole to the mixture. Then use either thinly sliced pimento or paprika and a bit of mayo to make bloodshot squiggles. Slice olives and place them atop the center of the eggs to complete the eyeball look.
Apple Cider
Once all the snacks are ready I just throw some apple juice with sliced oranges and cinnamon sticks in the slow cooker so the kids stay nice and warm. Once the kids go home, Mr. Meaty and I add vodka to our mugs and call it a night!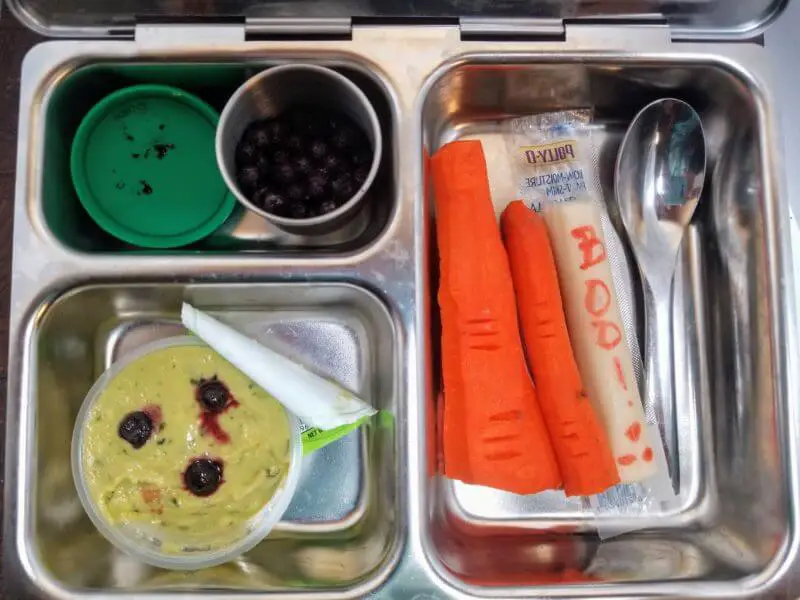 Halloween Lunch Boxes
Don't forget to keep it spooky in your kiddos' lunch boxes on Halloween (or if you're feeling frisky the whole week). I like to do ghostly cheese sticks and guacamole (I used blueberries for the eyes and mouth) and carrot stick witches' fingers. I've seen some great lunchboxes on Instagram with bat and mummy wrapping sandwiches. Have fun with it.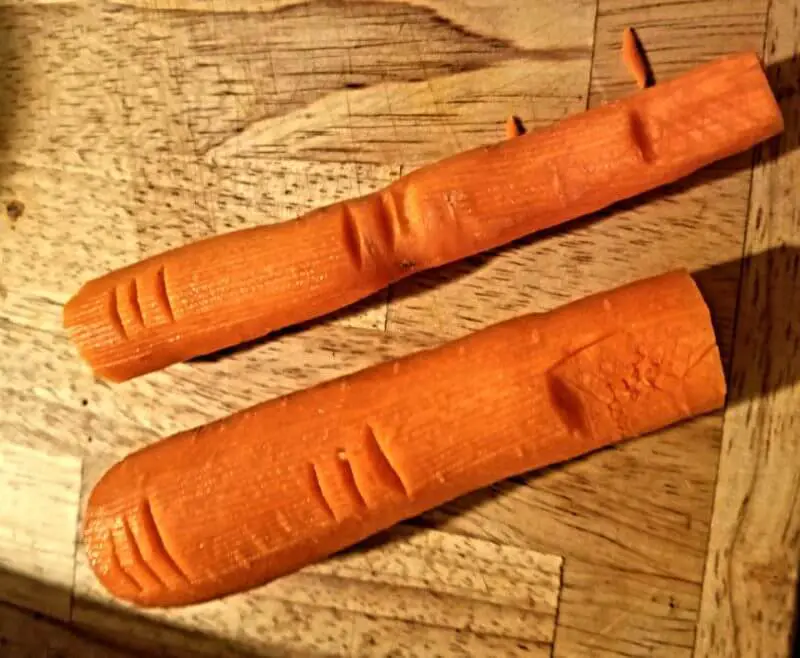 Try a few of these ideas from other bloggers, too.
This is a sponsored post; however, all opnions are my own.
The Super Easy Vegetarian Slow Cooker Cookbook
Want vegetarian and vegan recipes you'll love? Check out my first cookbook! I'm so excited about it and I hope you'll love it. You can find more information about it right
HERE
.