As an Amazon Associate, I earn from qualifying purchases.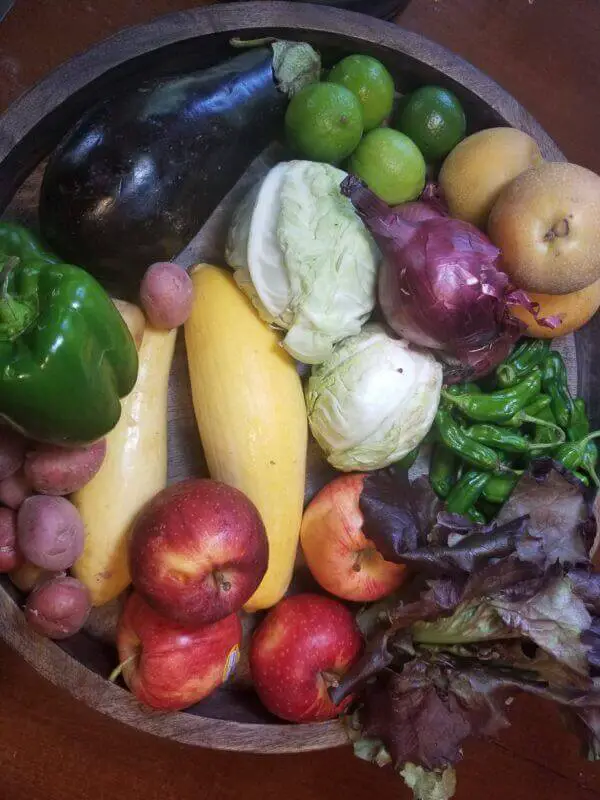 When I made the decision to leave the workforce and become a stay-at-home mom I didn't think it was a great financial move. I knew it was the right move for us, sure. But I figured it would cost us dearly, financially. Not really right away. We ran the numbers for that. I'd be paying nearly as much to a daycare or a nanny as I'd make. Journalism isn't exactly raking in the big bucks. At least not the type I was doing, small newspaper editing and cops and courts reporting.
But, it would cost us in the long run in lost career advancement and retirement contributions, I knew. But, what I didn't know, is that my career change would lead us somewhere that would bring us to financial independence earlier than most. Food led me to self-sufficiency and financial independence. 
Stay-at-home momming
When I was pregnant with Tall Fry, I was really ill with hyperemesis gravidarum, which basically just means you puke through the entire pregnancy…a lot. Like, so much they put you on IV fluids and medication they give to cancer patients going through chemo they later tell you it might've given your baby heart defects. Sigh. (She's fine, thankfully.)
So, I started my stay-at-home mom journey earlier than expected, 11 years ago with lots of vomit. Not exactly auspicious. Alas, all was well with the actual baby and momming as it turned out. And, we were smart about several things.
We saved money in preparation for going down to a single income. How?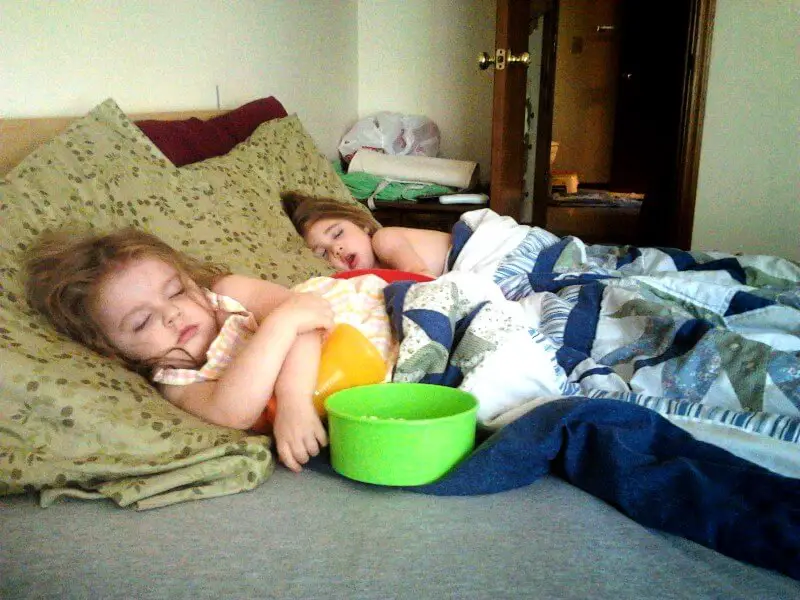 We cooked nearly all of our meals at home.
This was a HUGE issue of ours before kids. We ate out all of the time when we both worked. It was where most of our "extra" money went. During and post-pregnancy, we only rarely splurged on the occasional "emergency" food delivery. New parents gotta eat in spite of lack of sleep and crazy baby shenanigans. It happens.
We started understanding food labels and real food at this point, too.
It is definitely a work in progress, but we saved a lot of money by buying ingredients and beginning to cook foods from scratch, as well. 
Breastfeeding.
No judgment if you can't or simply don't want to breastfeed. But strictly by the numbers, it's cheaper. Yes, I had to eat more, and yes it was SO HARD because Tall Fry had latching difficulties and we actually had to pump and bottle feed her for a long time. But it was worth it.
Homemade baby food.
So much cheaper. And as it turns out, hey, our baby food doesn't have toxic heavy metals in it. Yikes. 
Seasonal food.
Cooking food when it's in season or on sale is super important. I started to understand that process a little later on, but once I really understood that, not only did our food taste better, but it was also a lot cheaper.
Experiences, not stuff.
I think one of the most important things we did was not worry about stuff. We didn't buy Christmas and birthday presents for the kids for the first several years they were alive. My mom did, but honestly, they don't remember it. We did make contributions to their college funds, but they don't know about those either. Instead, we took them to the park or the zoo or went to a picnic or the museum on free museum day. We had so much more fun and didn't clutter up our house with stuff.
Meal plan.
We tend to plan for three meals and wing the others. On Sunday night, we sit down together (now with the kids) and decide what those meals will be. We try to use seasonal foods in the mix. The plan occasionally gets altered at the store if there's a sale or clearance food we didn't know about, but otherwise, we try to stick to it.
Theme nights.
We love to do theme food nights because that gives us an idea to build on if we don't have anything instead of starting from scratch. Our themes are: Meatless Mondays, Taco Tuesdays (it's not just for tacos, think black bean soup and various Mexican dishes), Salad/Rice Bowl Wednesdays, Chicken/Chickpea Thursdays, Fish Fridays, Leftovers Weekends
Homemade Everything?
You can make so much stuff. Bread. Yogurt. Applesauce. Ketchup. I mean, sure, sometimes I don't. But if I can, and it makes sense to buy the ingredients rather than the completed stuff, I do it. Sometimes, it's less expensive or less hassle and not worth it to buy the completed food product, but that's fairly rare.
Budget. 
We stick to a budget for both groceries and eating out. There are times when we nix eating out altogether if our budget is tight for some reason. We tend to shop at Costco and Aldi for groceries and compare prices for our staples regularly.
I almost always go over my budget by at least a tiny bit. That's because I believe a good budget is a tight budget. I use Personal Capital for all my budgeting stuff. It's free and pretty handy. If you use this Personal Capital link, they will give you an Amazon gift card as a welcome gift.
Dirty Dozen and Organic.
I try to eat and shop organic whenever possible. But when I'm trying to budget appropriately, I shop with the Dirty Dozen in mind and I follow these guidelines. Meats and dairy I tend to buy grass-fed first and then organic if possible. Dirty Dozen fruits and vegetables I always either buy organic or not at all. After that, I buy conventional foods, those grown with standard pesticides, if they're on the EWG's Clean 15 list. The foods in between I usually buy conventional foods unless I have some taste reason I'd rather buy organic. I believe in voting with my wallet as well. Organic farming should be supported. The more people who buy organic products, the more support organic farming receives and the more organic farms will be kept in business. That's better for organic produce and producers. Win-win.
The birth of VeggieConverter
Once Small Fry was born, my brain was fully immersed in babies and I felt a little mushy around the ears. Also, it was getting difficult since Tall Fry was old enough to eat solids and I was still eating completely vegetarian (and Mr. Meaty was not) to eat family dinners together. So, I started documenting our family meals. I pretty much did this for two reasons. First, to keep track of what we liked and what we didn't for our own knowledge. And second, to keep my adult brain active and from turning into applesauce. I never expected this to turn into something that would pay for itself or certainly support my family, but I am certainly incredibly thankful that it does.
That first year, 2011, when I completed the challenge of 365 vegetarian dinners throughout the year was insane. By late October I was starting to think that no other meals that I could possibly think of to cook existed. Luckily, Mr. Meaty talked me into persisting. He thought it would be an awful waste to give up so close to the end and helped me brainstorm ideas. He's good like that.
So many people!
Early in that first year, I remember the first time I looked at my traffic reporting and saw maybe 10 people had visited and read what I wrote and how cool that was to see. I come from a newspaper background, so I think of things in terms of physical circulation, so it was a little humbling to think of this world of online circulation and all of these individuals reading my rambling thoughts. As the numbers continued to tick up, I was shocked. It climbed and climbed until at one point it reached 100,000 in a month! I could hardly believe it.
And, as views increased, advertising revenue did as well. And thankfully so, as my husband lost his job via layoffs at his corporate job somewhere along the way. So, my little blog, which began to keep my brain from becoming applesauce and to log our family's dinner journey, became our sole source of income. Eek! It was a little scary and I felt a lot of pressure. But, I stayed the course and tried not to feel the pressure. I diversified a bit and I have income sources other than advertising via the blog as well. 
What I did change was deciding to better prepare for retirement.
Preparing for retirement
When my husband was laid off from his corporate job, we realized that our decision to have me be a stay-at-home mom had finally come back to bite us. We hadn't properly prepared for retirement. We'd contribute to Mr. Meaty's retirement funds, but, in spite of having the ability to set up and contribute to funds as a small business owner myself, I hadn't done it. I could have even done a spousal IRA before that without any income of my own at all, but I didn't. That's the trap that stay-at-home parents fall into, not properly preparing for retirement because we're so focused on getting through the early childhood years that we don't think. 
I always planned on going back to work when the kids went to school. But when the blog took off and I realized I didn't have to go back to work, I didn't properly set up this career's retirement plan. I fixed that when Mr. Meaty was forcefully retired by his company. So, I fully contributed to my IRA for the year and Mr. Meaty's. Then, I set up a 401k for my business and started contributing to that, too.
Once I got all of that done, I tripled our net worth over the next two years. And that was in spite of the fact that we were back down to one income again. So, with that effort, I have us set up for financial independence. I didn't change much of anything about our daily habits. We cook most of our meals. We still meal plan and I budget as I always have, I just added the retirement planning component and now we're on our way. And all of this was after age 40, so it's not too late to start! 
What are you doing to help your financial situation, food budget or retirement fund?
For more on financial independence related to food budgeting, check out the related fiology lesson.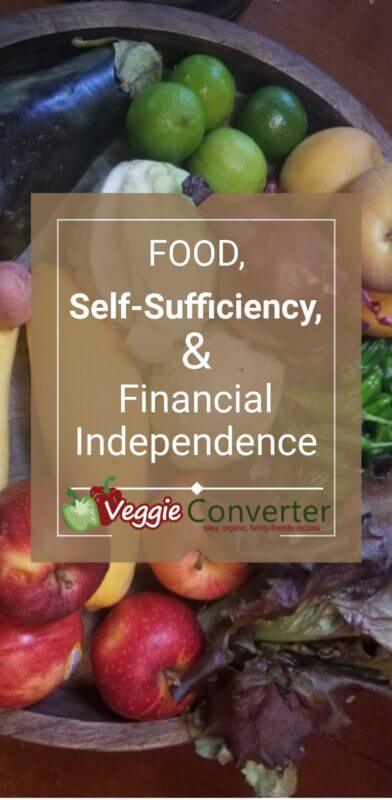 The Super Easy Vegetarian Slow Cooker Cookbook
Want vegetarian and vegan recipes you'll love? Check out my first cookbook! I'm so excited about it and I hope you'll love it. You can find more information about it right
HERE
.