As an Amazon Associate, I earn from qualifying purchases.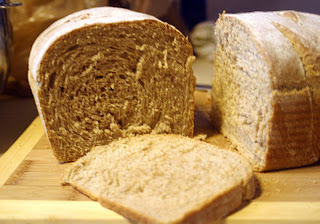 After trying multiple whole wheat bread recipes, I tried this one…the one lurking in my Betty Crocker cookbook all this time. And, with the adaptations recommended by Jo-Lynne at Musings of a Housewife, it is the perfect everyday sandwich bread for our family.
Honey Whole Wheat Bread
3 cups stone-ground whole wheat flour or graham flour
1/3 cup honey (or maple syrup for vegan)
1/4 cup coconut oil, melted
1 tablespoon kosher salt
4 1/2 teaspoons yeast
2 1/4 cups very warm water (120°F to 130°F)
3 to 4 cups whole wheat white flour
Method
Add all ingredients through warm water to your stand mixer, with a paddle attachment. Add 1 cup of the whole wheat white flour and mix on setting 2 until thoroughly combined. Switch to your dough hook and mix on setting 2, adding remaining flour one cup at a time.
Once dough begins to clean the sides of the bowl, allow mixer to knead dough for about 6 more minutes. Grease bowl, turning dough through grease. Cover and let rise 40-60 minutes.
Grease two loaf pans. Punch down dough, divide in half. Roll out each half in about a 18×9 rectangle, rolling into a loaf shape starting from the short side. Pinch together seam. Pinch and fold over ends. Set in greased loaf pans and cover and let rise for 35-50 minutes.
Preheat oven to 375. Bake 40-45 minutes, until bread is golden-brown and loaves sound hollow when tapped.
The Results
I'll admit it made me a little sad when I realized I tried about 10 different whole wheat bread recipes and, with a simple adaptation, the one that was sitting in my most-often used cookbook (Betty Crocker Bridal Edition) was the ultimate winner. But, at least we finally found the recipe that we love. And it's so simple (especially in the stand mixer). We absolutely love this bread. The first time we made it, the kids asked for FOURTHS! Crazy, right? I highly recommend this recipe to anyone trying to switch to whole foods (or for an occasional homemade bread treat for those who aren't).
What are you having for Sunday Brunch, Breakfast or Lunch?
This post is shared at Penny Worthy Project, Cookbook Sundays and· Savory Sunday.
The Super Easy Vegetarian Slow Cooker Cookbook
Want vegetarian and vegan recipes you'll love? Check out my first cookbook! I'm so excited about it and I hope you'll love it. You can find more information about it right
HERE
.