As an Amazon Associate, I earn from qualifying purchases.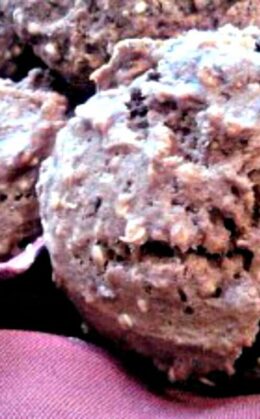 I'm sharing Chocolate Chip Quinoa Muffins, adapted from Martha Stewart's Quinoa Muffins. We went with chocolate chips instead of raisins in this version mainly because I was planning on sharing the recipe on Cravings chocolate day, but a schedule change for Lent meant these were slated from Friday instead of Monday. I think I'd also really like the raisin version, or maybe cranberry, but I'm so glad I tried the chocolate chips because I ended up loving them.  I'm not usually a big chocolate person, so I was surprised how much I liked these muffins. But the BEST part of these muffins is they're chock full of protein because of that quinoa, so the make a really healthy (and fast) pre-made breakfast.
Chocolate Chip Quinoa Muffins
Ingredients
2 cups Flour, All-Purpose
½ cups Brown Sugar
1 ½ teaspoons Baking Powder
1 teaspoon Salt
½ cups Chocolate Chips
2 cups rinse, drain, and cook Quinoa
¼ cups Applesauce
¾ cups Milk
1 individual Egg
1 teaspoon Vanilla Extract
The Results
We all loved these muffins. They aren't too sweet for me (which is rare for anything chocolatey) and they taste great later in the week warmed up with a bit of honey and butter.
This post shared at Gallery of Favorites, Fresh Bites Friday, Friday Favorites, Frugal Fridays and I'm Lovin' It.
The Super Easy Vegetarian Slow Cooker Cookbook
Want vegetarian and vegan recipes you'll love? Check out my first cookbook! I'm so excited about it and I hope you'll love it. You can find more information about it right
HERE
.