As an Amazon Associate, I earn from qualifying purchases.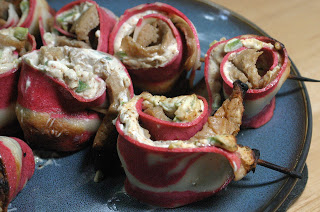 Day 260.
I don't normally try too many bacon-wrapped recipes, because they're hard to do with homemade "bacon"…but this one sounded so delicious I went out and bought a box of Morningstar Farms "bacon" for the recipe.I love cream cheese and jalapenos together and I added a bit of taco seasoning to the mix to spice it up a bit.
I had to construct mine a bit differently than the original since the "chicken" isn't in large flat sections. So, I made more of a roll-up than a wrapped piece of chicken by laying the bacon flat, layering on the cream cheese blend and then topping with the chicken pieces. After that, I rolled the bacon up and skewered it before grilling. I think it worked out much better than trying to stuff the chicken and wrap it with bacon.
Bacon-Wrapped Jalapeno Chicken Bites
Adapted from Bacon-Wrapped Jalapeno Chicken Bites.
Ingredients
8 strips veggie bacon
4 ounces cream cheese
1 jalapeno, finely diced
1 teaspoon taco seasoning mix
4 ounces seitan strips
Directions
Thaw and separate veggie bacon. Meanwhile, mix cream cheese, jalapeno and taco seasoning in a small bowl. Spread cream cheese mix over bacon strips. Layer seitan on top of strips. Roll bacon into a roll-up and run two water-soaked wooden skewers through the center. Repeat with remaining bacon strips, placing four rolls on each set of skewers. Grill about 5 minutes per side or until "bacon" is crispy.
The Results
These were fantastic. If you want it as a full meal, be sure to double the batch, using a full box of "bacon" and 8 ounces of seitan. As is, this is the perfect tasty appetizer. I loved the flavored cream cheese and bacon. Delicious.
This post is shared with What's for Lunch Wednesday , Gallery of Favorites, Simply Delish and Muffin Tin Monday.
The Super Easy Vegetarian Slow Cooker Cookbook
Want vegetarian and vegan recipes you'll love? Check out my first cookbook! I'm so excited about it and I hope you'll love it. You can find more information about it right
HERE
.