As an Amazon Associate, I earn from qualifying purchases.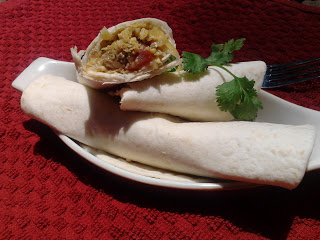 Day 149.
I found a super-yummy sounding recipe from Pam and I just had to have it for Sunday Brunch. In addition to changing the bacon to "bacon," I altered the hashbrown to eggs ratio a bit to favor the hashbrowns. Our toddler, Bug, has a bizarre dislike of eggs in any form.
So, I thought if she tasted the "crispy fries" first, she might actually eat the wraps. I halved the recipe, but kept the same amount of hashbrowns as the original recipe. I think this is going to be a winning recipe for sure. I have my fingers crossed that Bug is overwhelmed by cheesy tato taste and ignores those pesky eggs. I almost made hers vegan style (with tofu instead of eggs) but decided to risk it.
Bacon Hash Brown Breakfast Wraps
Ingredients
1 cup mushroom bacon
6 whole eggs (VEGAN: substitute 12 oz. container of tofu, scrambled into small chunks)
2 cups hash browns
1/2 cup salsa
1/2 cup shredded cheese (VEGAN: substitute 1/2 cup cheez)
12 small tortillas
House seasoning, to taste
olive oil
Directions
Heat a large skillet, over medium heat. Coat with olive oil. Put bacon and hashbrowns in skillet and brown, if necessary, until the potatoes are crispy. In large mixing bowl, combine eggs (or scrambled tofu) and salsa; beat well until combined. Pour into skillet with "bacon" and potatoes and cook over medium heat, stirring occasionally, until eggs are set. Spoon egg mixture into flour tortillas, sprinkle with cheese, and roll up.
TIP: For crispy wraps, spray wraps with cooking spray, sprinkle with House seasoning and bake at 400 for 10-15 minutes, until crispy.
The Results
Bug loved them! Hooray! I loved them, too. Nice, crispy potatoes and yummy bacon, eggs and cheese. How can you go wrong? Yum.
What are you having for Sunday Brunch, Breakfast or Lunch?
This post is shared at·Sundays at One Food Club, Just Something I Whipped Up, Penny Worthy Project, Cookbook Sundays·and·Potluck Sunday.
The Super Easy Vegetarian Slow Cooker Cookbook
Want vegetarian and vegan recipes you'll love? Check out my first cookbook! I'm so excited about it and I hope you'll love it. You can find more information about it right
HERE
.