I love brownies. And my husband is an excellent brownies maker. It's like, his thing. Years ago, we found this amazing brownies recipe from Alton Brown and he's been making them for potlucks and parties ever since. We call them the Alton Brownies. Mr. Meaty is a great baker and an excellent short order cook, you see. If we're looking for creativity in the kitchen, we send me in, if we want a recipe to be followed with perfection, we call on Mr. Meaty to get the job done. This time we combined forces. When I realized wheat was a migraine trigger for me, I stopped eating it. So when it came time for the next potluck, I was bummed. But, we persevered and tinkered until we found the best gluten-free flour to sub in to make our delicious, delicious Alton Brownies once again.
And then I was having a few oily friends over and wanted to make gluten-free peppermint essential oil brownies. So we tinkered some more. And the result is OH MY GOSH fabulous. I can't even describe to you how delicious these babies are and to think just 5 tiny drops made such a fabulous impact. We've also tried these with Einkorn flour, which you can also get HERE along with your oils. Einkorn is not gluten free, but is a gluten light ancient grain that doesn't impact my delicate wheaty sensibilities. If you're celiac, don't do it! If you're simply sensitive, you might consider it.
Gluten-Free Peppermint Essential Oil Brownies
Adapted from Alton Brown, makes one 8 x 8 pan (about 16) brownies
Ingredients
4 eggs
2 cups natural sweetener of choice (I use sucanat and/or honey granules)
8 ounces grass-fed butter, melted (2 sticks)
1 1/4 cup cacao powder
1/2 cup gluten-free flour (I use Pamela's Artisan flour blend)
2 teaspoons vanilla
1/2 teaspoon kosher salt
5 drops of peppermint essential oil (I buy mine HERE)
(Note: Oh my goodness, Mr. Meaty is awesome, he just rattled those off from memory when I went to look it up…told you we make it a lot.)
Method
Preheat oven to 300 degrees fahrenheit. Beat the eggs. Add sweetener(s). When the eggs and sugars are combined, add the melted butter and remaining ingredients.
Line an 8 x 8″ baking pan with parchment paper. Pour in batter.
Bake for 45-60 minutes at 300 degrees fahrenheit or until a toothpick comes out (mostly) clean…sometimes your center will still be a tad gooey, but will cook the rest of the way out of the oven. The wide time span is due to the mercuriality of gluten-free baking flours. Tricky beasts they are.
Note: If you double this recipe, you may need to add another 10 minutes to your baking time.
Love it? Pin it, please!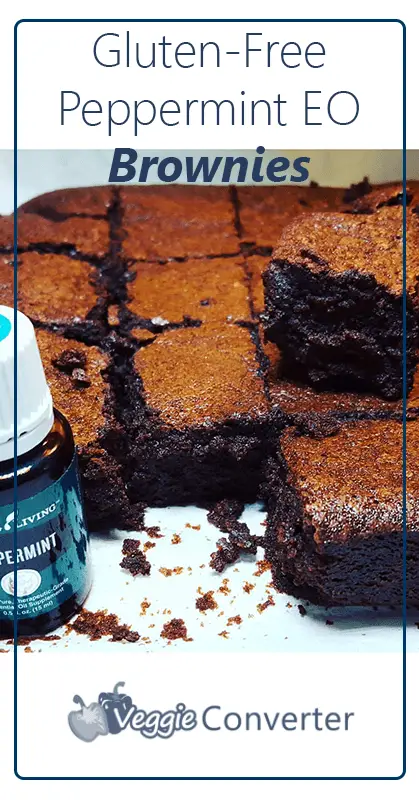 Due to spam, I've decided to close comments on posts older than 14 days.
PAID ENDORSEMENT DISCLOSURE: In order for me to support my blogging activities, I may receive monetary compensation or other types of remuneration for my endorsement, recommendation, testimonial and/or link to any products or services from this blog. I'm an affiliate with Amazon.com. If you use Amazon and would like to help me earn a little money to enable me to keep providing you excellent content, click this link for my favorite Julienne Peeler. You do not have to buy the item, but I'll receive a very small commission on anything you buy on Amazon within 24 hours. Thank you for your support!