Today's This Week's Cravings theme is MOTHER'S DAY BRUNCH and I'm sharing this freezer-friendly Simple, Crowd-Pleasing Twice-Baked Potato Casserole over at Onceamonthmom.com. This is a great holiday meal without all the fuss of "real" twice-baked potatoes. Not having to stuff those little shells made twice-baked potatoes a much more everyday meal for us.
The Results
The meat-eating husband and I loved this casserole. Honestly, I thought Mr. Meaty would HATE this, since he's not a fan of the pre-packaged fake bacon and I was using up the last of my store-bought variety on this dish. But to my surprise, he loved it! Score! Goose (our 1 1/2-year-old) loved it, too. So did Bug (3)…that is, until she heard the word "potato" associated with it. She's decided she hates potatoes, so once she heard that she refused to eat. We spent an extra hour at the table that day. But, if I can trick her into eating it without someone uttering that dreaded P-word, she likes it. Such is life with toddlers, I guess.
Please Grab Our Button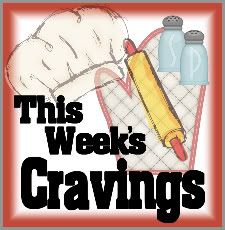 My This Week's Cravings co-hostesses are: Tina at Moms Crazy Cooking and Nicole at The Daily Dish. As hostesses, we will try our hardest to visit as many of the links we can. We all enjoy your links and look forward to gathering recipes each week.The party has a few SIMPLE RULES and all of the themes for the entire year are list here on the THIS WEEK'S CRAVINGS tabat Moms Crazy Cooking. Plan ahead, check out the weeks you want to make sure to link up or just browse them to see what's going on.
This Week's Cravings Upcoming Linky "THEMES"
Here is a complete list of the past and what's coming up next on THIS WEEK'S CRAVINGS!

May 14: EGG recipes… Casseroles, Egg Dishes, Hard Boiled or Appetizers too!
May 21: Memorial Day BBQ "ALL RECIPES WITH BBQ SAUCE or ON THE GRILL"
May 28: Share your Favorite CHEESEBURGER recipes!
June 4: Breakfast Breads (Doughnuts, Muffins, Biscuits & Coffee Cakes)
If you are a regular link-up we're excited to see what you made this week. If you are new please read and follow the simple rules, so that everyone can enjoy the linky party! If you forget to follow the theme, your post will be deleted. Please don't feel hurt, just come back and link up a recipe that follows the theme. Thanks a million, we look forward to blogging with you!
The LINKY PARTY is open ALL Week!
PLEASE do not link more then 3 recipes per week.
This week's theme is: MOTHER'S DAY BRUNCH
Please only link recipes with our theme!
This week's theme is: MOTHER'S DAY BRUNCH
Please only link recipes with our theme!
This post is shared at·Mouthwatering Mondays, My Meatless Mondays, Melt in Your Mouth Monday, Cravings, Just Another Meatless Monday,·Homemaker Monday.·Meatless Mondays,·Mingle Monday, Mangia Monday, Made By You Mondays and Monday Mania.