As an Amazon Associate, I earn from qualifying purchases.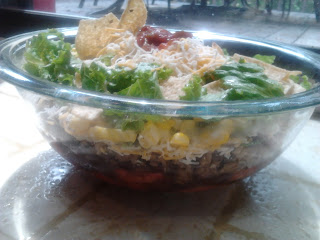 Day 130.
Taco taco Tuesday! Hooray! And we're having Southwest Taco Salad! I'm so excited about this recipe. I love taco salads and I have this AWESOME fresh corn on the cob from my CSA box, not to mention the fresh tomatoes. Mmm…it is going to be fantastic! I just drooled a little thinking about grilling the corn.
Layered Southwest Taco Salad
Adapted from Layered SW Salad.

Ingredients
Handful of tortilla chips or fried tortilla strips
1/4 C chunky salsa

1/2 C halved cherry tomatoes
2 C "ground beef" substitute
2 Tbsp. chopped cilantro
1/2 Tbsp vegetable oil
2 C black beans
1 C grilled or fire roasted corn
2 green onions, diced
2 avocados, cut into 1 inch pieces
2 C shredded lettuce
1 C Mexican cheese, shredded
2 Tbsp lime juice
 
Directions
Soak one ear of corn (in husk) in water. Grill inside covered grill or stovetop grill with a pan over the top for about 25 minutes (until husks are black), turning several times. If desired, remove husks and spritz corn with olive oil and a bit of kosher salt. Grill about 5 minutes longer per side. Cut grilled corn off of cobb and set aside.
In the bottom of a large bowl, combine salsa & tomatoes.  Pat into an even layer. In another bowl, combine chopped cilantro, oil and lime juice.  Spoon over tomato layer.  Layer beans next and green onions.  Next add "ground beef", avocados, lettuce, corn and shredded cheese.  Sprinkle tortilla strips/chips on top.
Results
Seriously the best corn I've ever had in my life. So incredibly sweet and the roasted parts, mmm. And the rest of this salad is nothin' to sneeze at either. This is such an excellent fresh vegetable dish for Spring. And so simple. I love it. This would be an excellent dish to bring to a potluck or block party, too.
Have leftovers? Make them into these delicious quesadillas!
This post is shared at·Tuesdays at the Table,·Slightly Indulgent Tuesday,·Tasty Tuesday, Delectable Tuesday,·Tempt My Tummy Tuesday,·Delicious Dishes,·Real Food Wednesday, Recipe of the Week, Hearth and Souland Tasty Tuesday.
The Super Easy Vegetarian Slow Cooker Cookbook
Want vegetarian and vegan recipes you'll love? Check out my first cookbook! I'm so excited about it and I hope you'll love it. You can find more information about it right
HERE
.