As an Amazon Associate, I earn from qualifying purchases.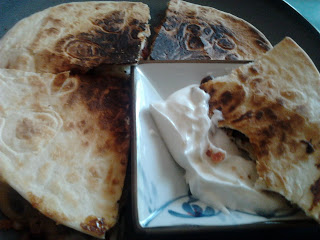 Day 132.
Today's recipe, tasty vegetarian Southwest Quesadillas, is brought to you primarily by my husband. He saw it in his heart to make the sick kids and sick mommy lunch today. He suggested quesadillas and I asked for yummy layered Southwest Taco Salad in mine. Then I thought, "Hey, that's a leftover creation. Score!"
That's a great go-to leftover meal. Insert leftovers between two tortillas with some shredded cheese. Grill. Done.
Leftover Creation: Southwest Quesadillas
Ingredients
Vegetarian Layered Southwest Taco Salad Recipe
Mexican Cheese, shredded
tortillas
(You know what proportions you like. No need to measure.)
Directions
Spray griddle or pan with non-stick spray. Toss half of your tortillas onto grill, top with Southwest Salad and cheese. Cover with other half of tortillas. Grill for about 3 minutes per side.
The Results
Mmmm. This is fantastic! I love it. So simple and delicious.
This post is shared with Simple Lives Thursday, Tip Day Thursday, Frugal Food Thursday, Recipe Swap Thursday,Recipes I Can't Wait to Try, Things I Love Thursday, It's a Keeper, Full Plate Thursday, Grocery Cart Challenge, Cooking Thursday and Ultimate Recipe Swap.
The Super Easy Vegetarian Slow Cooker Cookbook
Want vegetarian and vegan recipes you'll love? Check out my first cookbook! I'm so excited about it and I hope you'll love it. You can find more information about it right
HERE
.