As an Amazon Associate, I earn from qualifying purchases.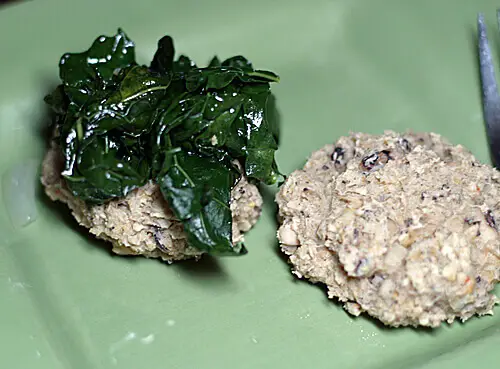 Happy New Year! I have a great New Year's Day recipe for you today. A new twist on a traditional favorite, Hoppin' John: Vegan Hoppin' John Burgers or Sliders. Yum!
I kept them simple (mainly for the kids and they're new anti-"spicy" attitudes), with very little seasoning. But feel free to spice them up with some chipotle mayo or hot sauce. Hoppin' John is a great dish for New Year's Day since it's thought to bring good luck and prosperity: the black-eyed peas symbolize coins while the greens symbolize paper money.
These vegan sliders are a great way to get all the luck without having the same dish each year. And, bonus, black-eyed peas are natural mood boosters (they are high in folate, which helps the creation of brain chemicals that regulate mood sleep and memory).
If you don't care for the black-eyed pea tradition, try a different one. Other options are New Year's eternity rings (fancy doughnuts), grapes and legumes of many varieties. Check out this post at CNN for more details. I'm particularly fond of the Spanish tradition of eating 12 grapes at midnight. How cool! I could also dig into some Japanese soba noodles. Yes, please. 
Vegan Hoppin' John Burger Sliders
Ingredients
2 cups Hoppin John
1 cup gluten-free breadcrumbs
Method
Combine ingredients and mold into patties or nuggets.
Bake at 350 degrees Fahrenheit for 15 to 20 minutes.
The Results
Very tasty! Definitely a nice change from regular Hoppin' John. I'd go a little spicier if making it for just myself, but the blander version was loved by the kids. A definite repeat for future New Year's Days.
This post is shared at·Tuesdays at the Table, Tuesday Night Supper Club,·Slightly Indulgent Tuesday,·Tempt My Tummy Tuesday,·Delicious Dishes,·Real Food Wednesday, Recipe of the Week, Hearth and Soul,Tutorial Tuesday, Tasty Tuesday and Tasty Tuesday.
The Super Easy Vegetarian Slow Cooker Cookbook
Want vegetarian and vegan recipes you'll love? Check out my first cookbook! I'm so excited about it and I hope you'll love it. You can find more information about it right
HERE
.