As an Amazon Associate, I earn from qualifying purchases.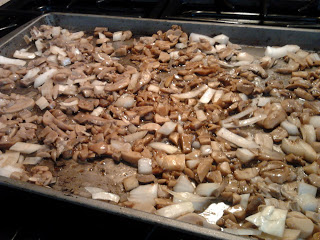 These easy whole food, vegan mushroom bacon bits are great as a bacon substitute in everything from hot slaw to salads. I absolutely love how versatile and delicious (and simple!) this substitute is!
Mushroom Bacon Bits
Ingredients
1/2 cup diced mushrooms (or a 4 ounce can of marinated mushrooms)
olive oil
1 tablespoon maple syrup
2 tablespoons soy sauce
black pepper
naturally-smoked hickory salt, to taste
1/4 onion, diced (optional)
Method
Marinate mushrooms in spices, soy sauce, molasses/syrup and oil.
Spread over cookie sheet and bake at 400F until crispy, about 25-30 minutes, stirring halfway through.
This bacon is great in German Hot Slaw and on burgers like these Bacon Bleu Sliders.
The Super Easy Vegetarian Slow Cooker Cookbook
Want vegetarian and vegan recipes you'll love? Check out my first cookbook! I'm so excited about it and I hope you'll love it. You can find more information about it right
HERE
.