As an Amazon Associate, I earn from qualifying purchases.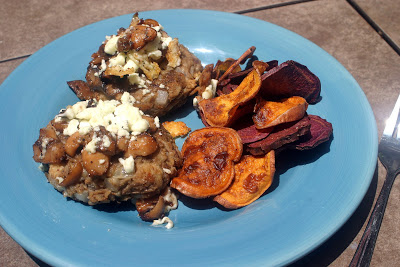 Day 208.
It's no secret I've fallen in love with sliders lately. And, since I'm doing my pantry challenge, I needed to use up some blue cheese. So these bacon bleu burgers were a perfect choice. I also had a ridiculous amount of sweet potatoes (both orange and purple) on-hand. So I made a batch of Sweet Potato Chips to serve alongside these burgers. Those were fantastic. We had the savory version here, but the sweet was great also.
Bacon Bleu Sliders
Ingredients
1/2 cup breadcrumbs
1/4 cup milk
2 tablespoons onions, minced
1 cup Mushroom Bacon Bits, divided
1/2 cup bleu cheese crumbles, divided
Method
Mix milk and breadcrumbs. Allow to site for 5 minutes, until milk is absorbed. In a large bowl, mix together "beef," breadcrumb mixture, onions, about half of the bacon and half of bleu cheese. Divide into 8 patties. Cook on hot grill for 3-5 minutes. Top with remaining bacon and cheese. We served ours on small sourdough rolls.

The Results
Super tasty. I love the bacon-bleu cheese combination. The sliders are great, as always, and the bacon-bleu cheese flavor really enhances the patty.
This post is shared with Real Food Wednesday, Recipes I Can't Wait to Try, What's Cooking Wednesday, What's on Your Plate?, What's on the Menu Wednesday, Let's Do Brunch, Works for me Wednesday, Gold Star Wednesday, These Chicks Cooked, Foodie Wednesday, Cast Party Wednesday and No Whine Wednesday.
The Super Easy Vegetarian Slow Cooker Cookbook
Want vegetarian and vegan recipes you'll love? Check out my first cookbook! I'm so excited about it and I hope you'll love it. You can find more information about it right
HERE
.