As an Amazon Associate, I earn from qualifying purchases.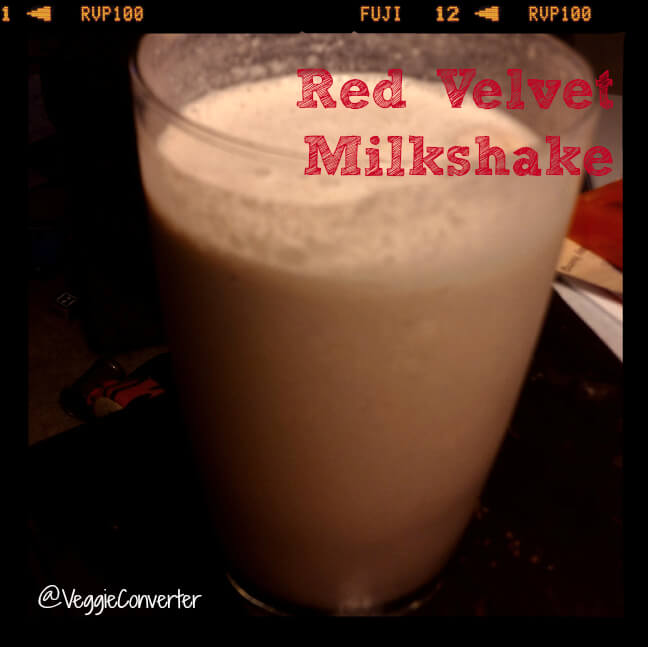 Just a quick post today to tell you about the greatest milkshake ever in existence. I can say this with a straight face because my husband mixed it up for me. I had some Red Velvet Cupcakes leftover in the freezer from a ridiculously long time ago…yes, the original posting date…don't judge.  I dug them out last week and the remaining two got a little stale. Imagine that, right? After only a year in the freezer?? Hah.
So I wanted to create a red velvet milkshake with the leftover cake and icing. But, my husband is much better at milkshakes. We don't have a blender, so it takes a little muscle with our stick blender. I know what you're saying, how could you not have a blender?? We had two blenders. I burned one out making baby food when Bug was a baby. The other the base still works. But alas, also when Bug was a baby, the heavy glass blender pitcher was sitting atop the fridge. One late night, I'd just whipped up dinner for Mr. Meaty. At the time, thankfully, he worked very close to our apartment so he was able to come home for work. I'd gotten Bug to sleep and I went to get one last thing out of the fridge. You know where this is going, right? The darn glass pitcher leapt off the top of the fridge and shattered upon my head. Good times. I swear I still have a lump.
So, I have the bottom of a blender and another pitcher that doesn't fit that blender (from the burned out one). And I'm too cheap to pay the $20 to buy a replacement pitcher for the evil blender that tried to break my head. Sad, right?
But I digress. Mr. Meaty was able to mix me the most amazing, delicious, fabulous milkshake in the world last night. And I'm only sorry I wasn't patient enough to wait and get better pictures. But believe me, it's amazing and delicious and could probably be totally pretty if you put a cute little cake cut-out on top.
Red Velvet Milkshake
Ingredients
1 cup ice cream
1 1/2 cups milk
1 red velvet cupcake, iced with cream cheese frosting
Instructions
Chop up your cupcake and mix with the milk and ice cream in a blender.
Drink it and go to your happy place.
The Super Easy Vegetarian Slow Cooker Cookbook
Want vegetarian and vegan recipes you'll love? Check out my first cookbook! I'm so excited about it and I hope you'll love it. You can find more information about it right
HERE
.