As an Amazon Associate, I earn from qualifying purchases.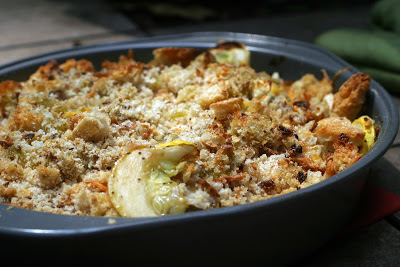 Day 180.
My husband loves summer squash. I like it, too, and we are both huge fans of potatoes au gratin. So, when we picked up a couple yellow summer squash in our most recent CSA box, I knew this would have to make an appearance on our menu. I veganized it and added a bit of "bacon."
Summer Squash Gratin
Adapted from Summer Squash Gratin.
Ingredients
2 small summer squash, sliced in 1/8-inch rounds (about 2 cups)
1 tablespoon House seasoning
1/2 cup caramelized onions
1 tablespoon garlic
1 teaspoon thyme
4 ounces green chiles, chopped
1/2 cup chopped Black Forest Bacon Strips or Mushroom Bacon Bits
1 cup vegan cheese, shredded (I used Mock Gruyere)
 3/4 cup breadcrumbs (I used homemade sourdough crumbs)
1.5 tablespoons olive oil
Directions
Preheat oven to 400.
Place squash in colander with the house seasoning. Toss and let sit for 10 minutes to remove a bit of the squash's moisture.
Mix squash and next five ingredients and place in a 9 inch diameter deep baking dish. Top with cheese, breadcrumbs and olive oil. Bake for 30-40 minutes, until squash is tender and topping is crisp.
The Results
Drool. The crispiness and the tenderness of the squash is a delicious combination and the cheesy flavor is awesome. I almost would add a bit more bacon if I make this again, but I wouldn't want to overpower the squash. Delicious.
This post is shared with Real Food Wednesday, Recipes I Can't Wait to Try, What's Cooking Wednesday, What's' on Your Plate?, What's on the Menu Wednesday, Let's Do Brunch, Works for me Wednesday, Gold Star Wednesday, These Chicks Cooked, Foodie Wednesday, Cast Party Wednesday and No Whine Wednesday.
The Super Easy Vegetarian Slow Cooker Cookbook
Want vegetarian and vegan recipes you'll love? Check out my first cookbook! I'm so excited about it and I hope you'll love it. You can find more information about it right
HERE
.