As an Amazon Associate, I earn from qualifying purchases.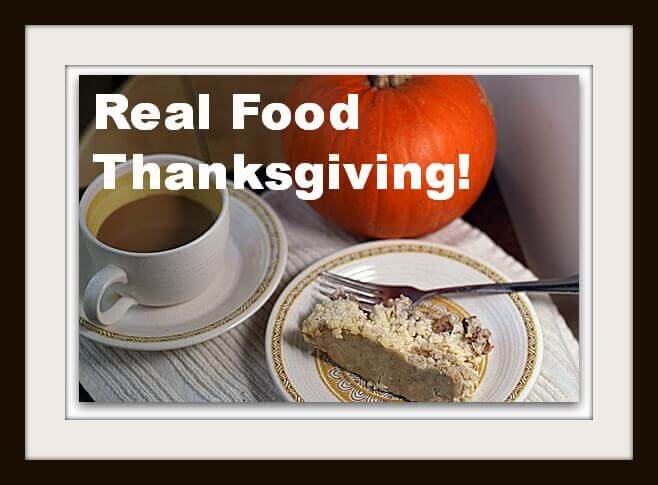 Thanksgiving. It's just a week away! As a family full of allergies, fussy eaters, meat lovers, vegetarians, etc., it can be pretty hard to get food on the Thanksgiving table that makes us all happy. Here's a list of options that I presented to my family for our meal. These 35+ Real Food Thanksgiving recipes are all great, in my opinion. However, it's just the *'d items are what we'll be enjoying this Thanksgiving! Enjoy!
35+ Real Food Thanksgiving Recipes:
Side Dishes:
Cranberry Orange Relish from Naturally Persnickety
Orange Cauliflower Parsnip Puree from Soundness of Body and Mind
*Butternut Squash Quinoa Stuffing from Veggie Converter (vegan, gluten free)
Butternut Squash Gratin from Oh Lardy
Fermented Cranberry Sauce from Oh Lardy
Roasted Brussels Sprouts with Cranberry Brown Butter from Oh Lardy
Au Gratin Potatoes from the Nourishing Cook
Breadless Stuffing from Eat Naked Now
Citrus-Cranberry Relish from Autoimmune Paleo
Green Beans with Bacon and Caramelized Onions from Nourishing Cook
Sweet Potatoes with Pecan Crust from Hollywood Homestead (Paleo)
Salads:
Cranberry Fruit Salad from Life by Jeanie
Broccoli Salad with Bacon, Carrots and Cranberries from DJ Foodie
Autumn Salad from Savory Lotus
Homemade Buttermilk Ranch Dressing from Cheeseslave
Soups:
Creamy Sweet Potato Soup from Don't Mess With Mama
Sweet Potato and Spinach Soup from Green Thickies
Leftover Turkey Soup from Soundness of Body and Mind
Main Course:
*CrockPot Rotisserie Chicken from Organic Authority
Desserts:
*Slow Cooker Pumpkin Cheesecake from VeggieConverter
Pumpkin Cream Cheese Pie from VeggieConverter
Pumpkin Spice Cake with Gingersnap crust from Autoimmune Paleo (grain free, dairy free, coconut free)
Cranberry Apple Cinnamon Smash from Grok Grub (grain free)
Raw Gluten Free Cheesecake from the Nourishing Cook
Chocolate Tarts from Good Girl Gone Green (raw, vegan)
Cranberry Mint Mousse from A Happy Health Nut (dairy free)
Apple Pie Ice Cream from Soundness of Body and Mind
*Maple Pecan Pie from Learning and Yearning
Pumpkin Trifle from The Yogi Mami
Grandma's Pumpkin Pie from Life by Jeanie
Pumpkin Cheesecake Puffs from Primally Inspired (grain free, dairy free)
Gluten Free Maple Pecan Muffins from Ditch the Wheat
Grain Free Pumpkin Spice Muffins from Homemade Mommy
Sugar Free Grain Free Apple Tart from the Nourished Caveman
Drinks:
Cranberry Margarita from Fancy Nonsense
Mason Jar Sangria from the Darling Bakers
Homemade Egg Nog from the Elliot Homestead
Apple Clove Kombucha from Real Food RN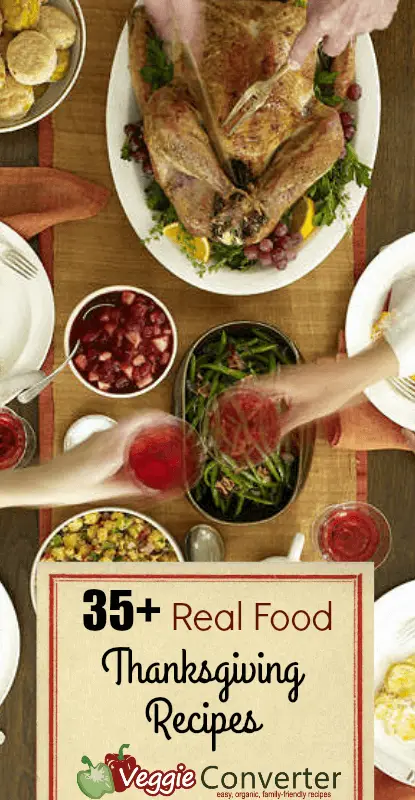 The Super Easy Vegetarian Slow Cooker Cookbook
Want vegetarian and vegan recipes you'll love? Check out my first cookbook! I'm so excited about it and I hope you'll love it. You can find more information about it right
HERE
.