As an Amazon Associate, I earn from qualifying purchases.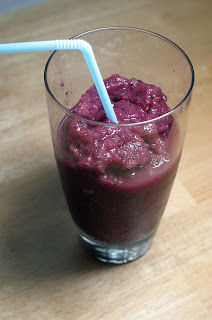 Day 231.
I actually made this recipe about six months ago and froze it. It was the perfect meal to have for a quick brunch when I returned from BlogHer and didn't have any fresh foods in the house. It was so simple to pull this out of the freezer and serve. I also think this would be excellent in a "pop" created like the Homemade Yogurt Tubes. Just pop them in these silicone tubes and either eat as is or freeze.  Our kids really love the fruit-only frozen tubes, especially when they're sick and this would be a great, easy (and cheaper) way to make them at home.
Raspberry Kiwi Smoothie
Ingredients
1.25 cups fresh raspberries, frozen (use flash freezing method)
1 cups blueberries, frozen (use flash freezing method)
1.5 cups cranberry juice
2/3 cups coconut milk
12 ice cubes
2 tablespoons ginger, fresh, grated
1 banana
6 kiwis, peeled
Method
Blend all ingredients except kiwi and banana. When smooth, add in fresh fruit. Blend lightly and serve. I actually blended it all together without the ice cubes and froze it. Upon thawing, I intended to add the cubes, but liked the rich flavor without and kept it that way. I imagine both ways are tasty though.
The Results
This was absolutely delicious. I thought the kids might think it too strong, so I thinned theirs down a bit. So, of course, they preferred the un-thinned version and ended up sharing my glass. This makes an excellent breakfast or snack.
This post shared at Fat Camp Friday, Crafty Friday, Friday Favorites, Potluck Friday,·Frugal Fridays, Foodie Friday, Fresh Food Friday and I'm Lovin' It.
The Super Easy Vegetarian Slow Cooker Cookbook
Want vegetarian and vegan recipes you'll love? Check out my first cookbook! I'm so excited about it and I hope you'll love it. You can find more information about it right
HERE
.