As an Amazon Associate, I earn from qualifying purchases.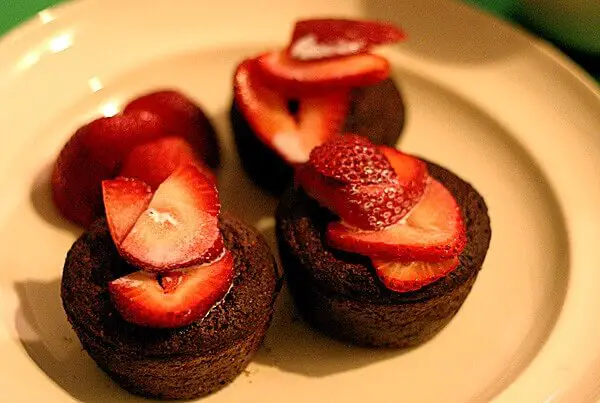 I love pumpkin, I love berries and who doesn't love muffins?? And, oh boy let me tell you, these babies are resilient! I got caught up writing an article and didn't hear the oven beep. These little berry muffins stayed in the oven probably an extra 15 minutes and were still moist and delicious. In spite of a bit of a hard shell! Next time they'll be prettier I'm sure, but they were incredibly delicious!
Pumpkin Gingerbread Berry Muffins
Ingredients

1 cup pumpkin puree
1/2 cup honey granules or sugar
3 Tablespoons molasses
1 egg
2 teaspoons vanilla extract
2 cups whole wheat pastry flour
1 teaspoon ground cinnamon
1/2 teaspoon ground nutmeg
1/2 teaspoon ground ginger
1 teaspoon baking soda
1/2 teaspoon salt
1 cup whey or buttermilk
2 HEAPING cups fresh or frozen mixed berries (if using frozen, mix with enough flour to lightly coat the berries)
1/3 cup chopped walnuts (optional; I left these out so Bug could take them to school)
Instructions

Preheat oven to 350 degrees.
In a large bowl, mix wet ingredients
In a small bowl, sift together dry ingredients. Combine and mix gently.
Bake at 350 for 22 minutes.

Recipe Source: VeggieConverter.com
The Results
Wow. Seriously fantastic in spite of being over-baked.
This post is shared with Real Food Wednesday, Whole Food Wednesdays, What's Cooking Wednesday, Works for me Wednesday, These Chicks Cooked and Bake with Bizzy, Hearth and Soul Hop.
The Super Easy Vegetarian Slow Cooker Cookbook
Want vegetarian and vegan recipes you'll love? Check out my first cookbook! I'm so excited about it and I hope you'll love it. You can find more information about it right
HERE
.