As an Amazon Associate, I earn from qualifying purchases.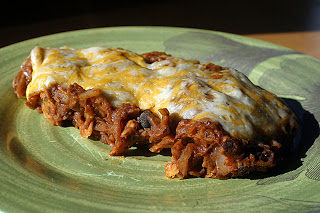 Day 359.
Merry Christmas! We've never been one to have terribly traditional Christmas dinners, but our "usual" is Meaty Vegetarian Lasagna. It's a great tradition on our family that began in the early years of vegetarianism for my sister and I with cheese lasagna. But, this year, we're going with enchiladas and our delicious new homemade enchilada sauce. Drool. It's so good. As you may know, I'm a huge fan of pumpkin flavor, but my husband is not as much. He likes pumpkin, but isn't one of the "pumpkin crazies" like myself. I think these enchiladas will be a perfect compromise because the subtle pumpkin flavor will be a bit of a secret with the strong flavor of the enchilada sauce to dominate it. The kids like most everything Mexican-inspired and are completely obsessed with black beans. So this should be a hit.
Pumpkin Black Bean Enchiladas
Ingredients for 4 servings
olive oil
1/2 cup red onion, diced
1 tablespoon minced garlic
1 pint (about 2 cups) Easy Homemade Enchilada Sauce
2 cups pumpkin puree
House seasoning, to taste
1 cup shredded potatoes*
1 teaspoon Homemade Taco Seasoning Mix
1/2 teaspoon cilantro, dried
8 small corn tortillas
1 cup dairy-free Mexican cheese, shredded (optional)
*Frozen hashbrown shreds, thawed, could be substituted
Directions
Preheat oven to 350. Spray an 8 x 8 baking dish.
In a large pot, cook red onion and garlic with a bit of olive oil over medium heat until translucent, about 5 minutes. Add enchilada sauce and pumpkin puree. Heat through over medium heat and season to taste. Spread about 1/2 cup in the bottom of your baking dish. Add black beans, potatoes, taco seasoning and cilantro. Cook over medium heat for about 10 minutes, stirring regularly.
Fill each tortilla with pumpkin-bean filling, roll up and place seam-side down into baking dish. Top enchiladas with remaining sauce and cheese, if desired.
Bake at 350 for 30-35 minutes, until cheese is melted and potato shreds are baked through.
The Results
The pumpkin is super subtle, but even though I can't taste it much, I feel good about it being in there. The kids loved it and so did the husband. I found myself wanting a little more pumpkin flavor, but that's just an expectation issue. The enchiladas are fantastic and the shredded potatoes give the filling a great bite.
What are you having for Sunday Brunch, Breakfast or Lunch?
The Super Easy Vegetarian Slow Cooker Cookbook
Want vegetarian and vegan recipes you'll love? Check out my first cookbook! I'm so excited about it and I hope you'll love it. You can find more information about it right
HERE
.