As an Amazon Associate, I earn from qualifying purchases.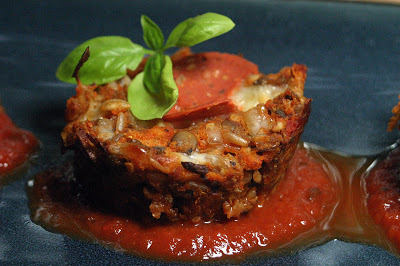 Meatloaf is always a challenge to convert into a meatless meal. These "pizza" meatloaf cups seemed like a good bet because it doesn't rely so exclusively on the meat for the taste (much like my other successful meatloaf conversion: Cranberry-Blue Cheese Meatloaf).
To adapt this recipe for the beef substitute and enhance the "pizza" flavor, I increased the pizza sauce, Italian seasoning and cheese and added pepperoni to half our pizza meatloaf cups. The flavor enhancers should make up for the lack of fat in the "meat." 
This was easy to prepare, super kid-friendly and a simple muffin-size serving. Any leftovers would freeze great and reheat easily in the oven. 
 
Pizza Meatloaf Cups
Adapted from Pizza Meatloaf Cups.
Ingredients
1 egg, slightly beaten*

1 cup pizza or pasta sauce

1/4 cup breadcrumbs

1 tablespoon Italian seasoning

3/4 cup Mozzarella cheese, shredded*

12 slices vegan pepperoni (optional)

Additional pizza sauce for serving, if desired
*Vegan converter: egg substitute and Daiya vegan mozzarella can be substituted, if desired
Directions 
Preheat oven to 350 and grease a 12-cup muffin tin.
Mix egg, sauce, breadcrumbs and Italian seasoning. Mix into "beef." Using an ice cream scooper, scoop meat mixture into muffin tin cups, filling about halfway. Using your thumb (or a spoon), press a well into the center of each mini meatloaf. Fill with about 1 tablespoon cheese each and mash the sides of the meatloaf down over the cheese. Top each center with pepperoni, if desired.
Bake 15-18 minutes, until cheesy center is gooey. Cool about 5 minutes and serve.
The Results
Oh yummy. The kids and I loved these. They tasted like meaty little pizza bites to me. I loved them. And our youngest (a 1-year-old) gobbled down two in as many minutes. The meat-eating husband said "it isn't meatloaf." So, his image of meatloaf is still wrapped around the meat. Understandable.
This post is shared with What's for Lunch Wednesday , Simply Delish and Muffin Tin Monday.
The Super Easy Vegetarian Slow Cooker Cookbook
Want vegetarian and vegan recipes you'll love? Check out my first cookbook! I'm so excited about it and I hope you'll love it. You can find more information about it right
HERE
.