As an Amazon Associate, I earn from qualifying purchases.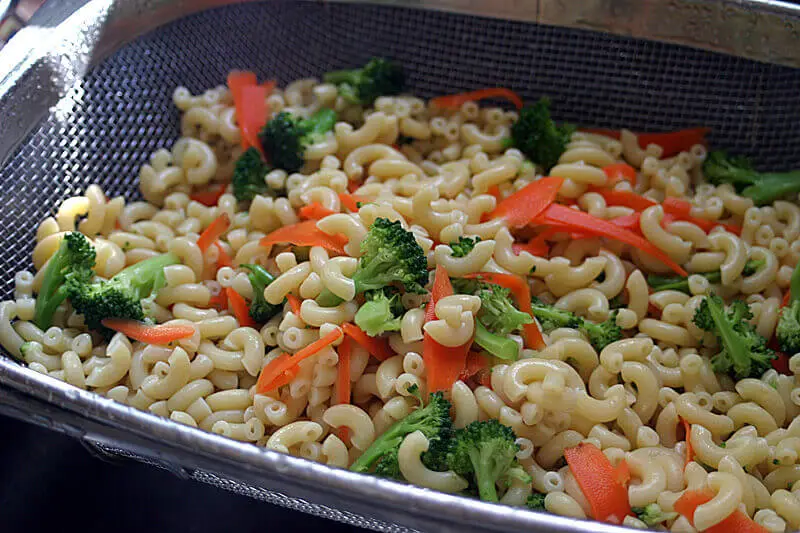 I love picnics and I love pasta salad. Marriage made in heaven, right? So, we were planning a trip to the park with the neighbors a few months back (I think it was right at the beginning of Summer) and I threw together what I now believe to be the perfect Picnic Pasta Salad for our family and have been making it this way ever since! It's so simple. The best part is the shaved carrots. The kids love them this way! I just use our vegetable peeler to shave off slices of carrot and toss them into the boiling pasta water along with the broccoli about 5 minutes before the buzzer rings. Yum!
And the dressing! Wowza. A bit of balsamic vinegar and olive oil highlighted by cumin and fresh herbs (basil, cilantro and chives). Delicious.
Picnic Pasta Salad
Ingredients
1 pound macaroni or other small noodles
1 cup broccoli florets
3 medium carrots, shaved with a vegetable peeler
olive oil
balsamic vinegar
cumin
cilantro, fresh, chopped
chives, fresh, chopped
basil, fresh, chopped
Instructions
Boil noodles. With about 5 minutes remaining, add carrots.
Once noodles and veggies are done, drain and toss with remaining ingredients.
The Results
Love it and have made it several times since! Delicious and simple. Make it your own with whatever veggies you like!
This post is shared with Real Food Wednesday, Whole Food Wednesdays, What's Cooking Wednesday, Works for me Wednesday, These Chicks Cooked and Bake with Bizzy, Hearth and Soul Hop.
The Super Easy Vegetarian Slow Cooker Cookbook
Want vegetarian and vegan recipes you'll love? Check out my first cookbook! I'm so excited about it and I hope you'll love it. You can find more information about it right
HERE
.