As an Amazon Associate, I earn from qualifying purchases.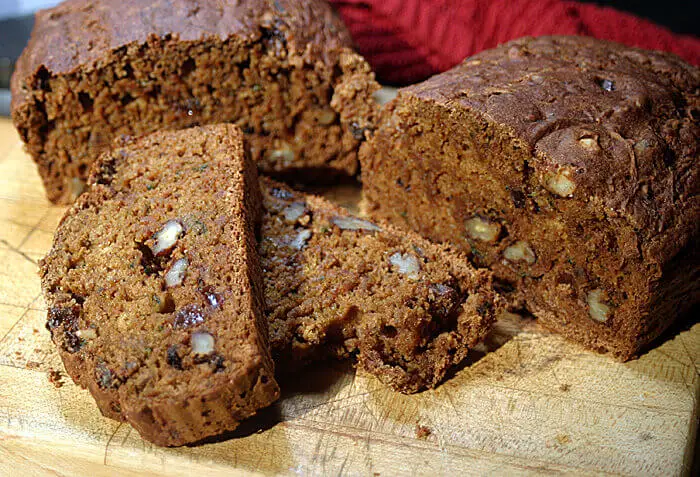 **Congratulations to the USA Pan Winners!**
When we lived in Colorado (age 3 to 5 for me), we had an amazing garden and an equally amazing next-door neighbor named Darla. She had several delicious zucchini recipes with my mom that we still make today.
When I first decided to make my own zucchini bread, I went to my trusty Betty Crocker Zucchini Bread Recipe, which I later made into muffins. The muffins, and the bread, are delicious. But it's not quite like the zucchini bread I remember from my youth.
So I finally broke out the "Mom's Zucchini Bread" recipe (which she's quick to remind me is actually Darla's). I've made a couple of minor updates to fit our new whole food lifestyle, but the heart of the recipe is the same.
And my kids went absolutely crazy for it, much like I remember my sister and I going crazy for our zucchini bread at that age. Great memories and a great recipe.
When I got the ingredients out for the recipe, I realized I was out of eggs, so I went vegan sort of inadvertently this time. I couldn't be happier with the results.
Today is also the day to announce the winners of the USA Pan Giveaway. Congratulations to the winners!
Entry #73 Stephen-Emmy W. wins a 12-well USA Pan Muffin Tin

and

Entry #86 Julie A. wins 2 10-inch USA Pan Loaf Pans
I have contacted both winners with requests for shipping information. Please contact me within 48 hours to redeem your prize or new winner(s) may be selected.. Didn't win? Don't fret, check out USA Pans on Amazon.
Mom's Zucchini Bread
Ingredients
3 cups flour or gluten-free flour
1 1/4 cups sucanat (or brown sugar)
1 teaspoon salt
1/2 teaspoon baking powder (with flax eggs, the total will be 1 1/4 teaspoon)
1 1/2 teaspoon baking soda
2 cups shredded zucchini
1 cups chopped walnuts
1/2 cup raisins
1 tablespoons water
3 flax eggs or other egg substitute (3 tablespoons ground flax seed plus 9 tablespoons hot water and 3/4 teaspoons baking powder)
1 cup applesauce
Method
Preheat oven to 350. Mix together and put in loaf pans (2 small or 1 large). Hopefully in the beautiful USA Pan loaf pans you won! 
Bake  at 350 for 1 hour to 1 hour 15 minutes until a toothpick comes out clean.
The Results
The kids went insane for this bread…Bug asked for FIVE slices. With the protein and Omega 3s in the flax seed, it's a pretty complete meal, too. So I was very excited that they loved it.
I really liked this bread too. It does taste a bit different with the flax seed "eggs," and it's not quite as sweet since I cut the sugar down from 2 cups. But I really love it. Strangely, I like it better when it cools down! The meat-eating hubby liked this tasty zucchini bread treat, too. That's a big win, since he's not as big a fan of zucchini as I am.
This post is shared with Real Food Wednesday, Whole Food Wednesdays, What's Cooking Wednesday, Works for me Wednesday, These Chicks Cooked and Bake with Bizzy, Hearth and Soul Hop.
Note: While USA Pan provided me with pans for the giveaway, my opinions are 100% my own. See my full disclosure policy here. This promotion, open to U.S. residents only, is in no way sponsored, endorsed or administered by, or associated with, Facebook. I hereby release Facebook of any liability. Winner(s) will be contacted by email 48 hours after the giveaway ends. If you have any additional questions – feel free to send an email to [email protected].
The Super Easy Vegetarian Slow Cooker Cookbook
Want vegetarian and vegan recipes you'll love? Check out my first cookbook! I'm so excited about it and I hope you'll love it. You can find more information about it right
HERE
.