As an Amazon Associate, I earn from qualifying purchases.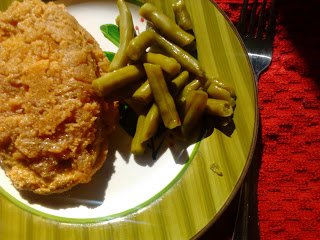 Day 73.
I've never before tried Gardein "chik'n," primarily because I don't like to buy pre-made foods. I like to cook myself, so their "Chick'n Scallopini" and "BBQ Chick'n" just doesn't appeal to me. It sounds great and all, but I'm not in that big of a rush.
If I buy "meats" rather than make them, I buy them as an ingredient for a recipe (e.g. Quorn chik'n tenders/cutlets). But, every single time I talk about fake meat and ask what everyone's favorite "meat" is, Gardein comes up with high praise. So, when I stumbled across a recipe to use that scallopini in a "Fried Chik'n" recipe, I thought that would be a great excuse to try the stuff.
Vegan Fried Chicken
Adapted from Art Smith's Vegan Fried Chik'n.
Ingredients
1 package (4 pieces) gardein chick'n scallopini (or use chickpea cutlets)
for the cashew cream:
1 C cashews, whole raw
water for covering cashews by 1"
for the chick'n:
2 C cashew cream
1 Tbsp. tabasco
1 C all purpose flour
1 Tbsp. House seasoning blend (kosher salt/garlic powder/black pepper)
1 tsp. baking powder
1 tsp. "old bay" seasoning substitute (I make this at home without the celery salt, I'm allergic. Use Old Bay if you like)
2 tsp. cayenne pepper
vegetable oil for frying
Directions
For the cashew cream…. put the cashews in a bowl and add cold water to cover them. cover the bowl and refrigerate overnight. drain the cashews and rinse under cold water. place in a blender with enough fresh cold water to cover them by 1 inch. blend on high for several minutes until very smooth and strain through a fine mesh sieve (or cheesecloth…I don't have a sieve).
For the chick'n… place the chick'n in a medium bowl and add the cashew cream and tabasco. stir well to coat.
In a shallow bowl, mix the flour, baking powder, garlic powder, old bay, cayenne, and black pepper. shake the excess marinade off the chick'n, and then dredge in the flour. shake excess flour then dip the chick'n back into the cashew cream and coat again in the flour. add enough oil to a deep large skillet to create a depth of 1". heat over medium-high heat to 350º f (use a deep-frying thermometer or an electric frying pan). fry the chick'n in batches until golden and cooked through, about 5 minutes per side. drain on paper towels and serve.
The Results
Oh my goodness, I love this batter. It's tasty and crispy. I don't really think it tastes like real fried chicken, but for me, that's a good thing. I will definitely have to consider buying these again in the future, but I think you could make the same type of thing out of Quorn or even a bean patty (and have it be a bit cheaper; these are a bit pricy). Bottom line: I dig it, but not something I'd pay to make frequently.
What's something you splurge on every now and then in your cooking?
This post is shared at·Mouthwatering Mondays,Cravings, Menu Inspiration Monday, Muffin Tin Monday, Just Another Meatless Monday,·Happy Homemaker Monday,·Homemaker Monday.·Meatless Mondays,·Mingle Monday,Make it with … Monday and·Hearth and Soul.
The Super Easy Vegetarian Slow Cooker Cookbook
Want vegetarian and vegan recipes you'll love? Check out my first cookbook! I'm so excited about it and I hope you'll love it. You can find more information about it right
HERE
.