As an Amazon Associate, I earn from qualifying purchases.
I used to be a bit of a Papa John's Cheese Sticks junkie. And the garlic butter sauce? Uh, yum! But, once I started eating more whole foods and cooking most of our food at home, we didn't order cheese sticks or pizza much. One day last year, we were congratulating ourselves for a big cleaning and organization day, so we ordered some cheese sticks and pizza for dinner. It turns out, my memory of the store-bought variety was so much better than reality. I liked my own homemade pizza better! I was disappointed and overjoyed at the same time.
Since then, I've been making plain cheese, garlic and olive oil sauce pizzas (the kids favorite) pretty regularly. And I think with the new pizza dough recipe I've achieved simple perfection! These are incredible. And they don't even need a dipping sauce.
And, also super cool, my daughters were able to help me make these cheese sticks. And Bug, our nearly 4-year-old, even took a couple of pictures, including the one below. She's always saying she's going to be grow up to be an artist, just like me. 🙂 Cutie.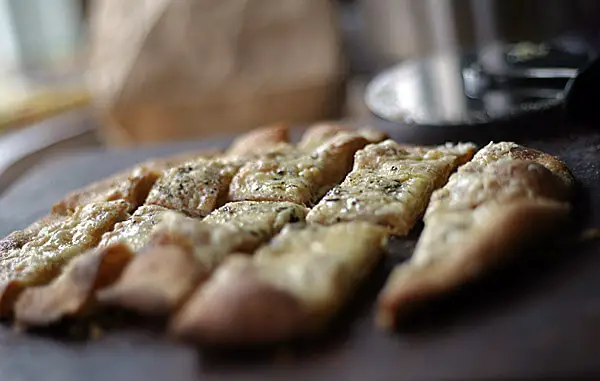 Homemade Whole Wheat Garlic Cheese Sticks
Ingredients
1 pizza dough
2 Tablespoons olive oil
1 Tablespoon minced garlic
1 1/2 cups shredded cheese (I usually use a blend of Italian cheeses)
Instructions
Preheat oven and pizza stone to 450.
Smear olive oil and garlic on dough and top with cheese.
Bake for 5-7 minutes.
And, check out these great other Superbowl Snacks:
Vegan Slow Cooker Chili is one of our all-time favorites and it's perfect for the big game!
Easy Homemade Hummus is so simple and it's a great dip for chips or veggies.
Vegan Pepporanata Pizza vegan and pizza, hello!
Buffalo Chicken French Bread Pizza veggie buffalo chicken pizza is so yummy. I love this combo.
Pizza Bagel Bites are one of those guilty pleasures from my childhood and this recreation is so tasty.
The Super Easy Vegetarian Slow Cooker Cookbook
Want vegetarian and vegan recipes you'll love? Check out my first cookbook! I'm so excited about it and I hope you'll love it. You can find more information about it right
HERE
.