As an Amazon Associate, I earn from qualifying purchases.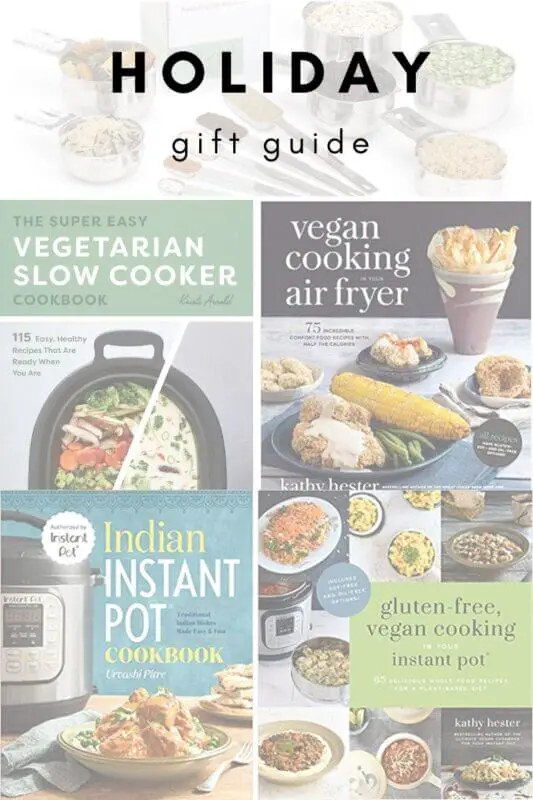 It's time for the holiday gift guide. This year for the holidays, check out these neat gifts you can get for your loved ones (or yourself). Or if you feel like making your own gifts, try this last-minute holiday gift guide to DIY your gifts!
Check out the Holiday Gift Guide…
Cookbooks
Check out some of my favorite cookbooks for the holiday season. It's a great way to start off the new year on the right foot by gifting a new cookbook for the holidays! If your loved one loves to cook or wants to start cooking more at home, check out a few of my favorites this season.
The Super Easy Vegetarian Slow Cooker Cookbook
I might be biased here, but if you want to add more meatless meals to your menu planning repertoire, check out The Super Easy Vegetarian Slow Cooker Cookbook, by ahem, Kristi Arnold. 🙂
You can cook a whole variety of appetizers, mains, sides, and yes, desserts, right in your slow cooker.
Fill slow cooker with delicious vegetarian ingredients. Walk away. That simple.
Whether you are a dedicated vegan, a moderate vegetarian, or just a weekend herbivore, The Super Easy Vegetarian Slow Cooker Cookbook is your simple source for recipes that fit into your busy life. With 118 delicious, hands-off recipes, it proves you can spend minutes in the kitchen and still have a delicious end result.
Instant Pot Fast & Easy
This cookbook is an excellent starter guide to instant potting. Urvashi Pitre lays out a great guidebook to the appliance and gives us lots of great (not all vegetarian) recipes to cook in it.
Indian Instant Pot Cookbook by Urvashi Pitre is already one of the top-selling cookbooks in its category. Now Pitre turns her sights to all kinds of boldly flavored and internationally-themed recipes—Mexican, Thai, Moroccan, and more—with Instant Pot Fast & Easy, fully authorized by Instant Pot. Just like fans have come to expect, Pitre's incredibly well-tested recipes will work perfectly every time, and of course taste great too. And because these are Instant Pot recipes, dishes like Japanese Chicken Curry, Chinese Steamed Ribs, and Mexican Pulled Pork are ready in a fraction of the time they would take using traditional cooking methods. As with all of Pitre's recipes, the focus is on whole foods instead of artificial convenience ingredients, so the recipes are delicious, easy, and healthful too.

Vegan Cooking in Your Air Fryer
Kathy Hester's vegan air fryer cookbook will make you want to make room on your counter for this appliance.
Vegan Cooking in Your Air Fryer provides plant-based dishes with all the decadence of fried food without the added calories. Using little to no oil, these recipes result in wholesome and delicious meals with less mess, but the perfect texture, every time.
You will be amazed at how fast you can have dinner on the table using your air fryer. With recipes like Black Bean Avocado Chimichangas, Cheesy Hot Sauce Collard Chips, Cajun French Fry Po'Boy with Vegan Mushroom Gravy and Banana Spring Rolls, plus techniques that yield crispy tofu to rival any restaurant, Vegan Cooking in Your Air Fryer makes healthy eating easy, fast and tasty.
Indian Instant Pot
Urvashi's Indian Instant Pot cookbook is the one that got me started in the instant pot. It's a couple years old, but if you (or your loved one) don't have it, you really do have to get it. It's not all vegetarian, but there are quite a few. And, you can always replace the protein in Indian dishes with paneer or chickpeas. So, even if you are a strict vegetarian, don't avoid this book! The sauces are so worth it.
Discover how simple and delicious traditional Indian cuisine can be. The Indian Instant Pot Cookbook offers fast and easy takes on classic Indian dishes―all designed to be cooked in your electric pressure cooker.
Whether you're new to Indian food or looking to experiment at home, The Indian Instant Pot Cookbook keeps things simple with limited-ingredient, quick-fix recipes for everything from Basmati Pulao to Chicken Tikka Masala. Learn how to properly use your Instant Pot, stock up essential spices, substitute ingredients, and more.
Gluten-Free Vegan Cooking in Your Instant Pot
Hello! Vegan AND gluten-free, thank you, again cookbook goddess, Kathy Hester for this book! I love this, and it's so simple in the instant pot.
Kathy Hester, bestselling author of The Ultimate Vegan Cookbook for Your Instant Pot®, brings her signature simple style to this exciting new vegan recipe collection. From Chickpeas and Dumplings to The Easiest Vegan Mac and Cheese to Onion and Molasses Baked Beans and even Almond Berry Cake, each delectable recipe is made from whole foods and is not only plant-based and gluten-free but also soy-free, refined sugar-free and has low or no salt. This cookbook makes it easy to prepare amazing meals that are truly good for you!
Universal Yums
OK, so I JUST got this box and it is SO cool. It's a box that comes with snacks from a different country. You can order different sizes of boxes, but each box has a variety of snacks from the selected country. For the December box, you get a variety of holiday treats from all over the world. I love this idea. We also get trivia and a little activity booklet in our box. Very neat. Check out Universal Yums.
Misfits Market
If you follow my instagram account, you've seen my Misfits Market box photos. I LOVE this produce box. The schtick is that it's sometimes ugly produce. Sometimes it's totally fine, sometimes it's a little dirty and sometimes it's super weird and banged up. It's always delicious and it's usually pretty normal stuff that's easy to use in recipes, which I LOVE. I've had CSA (community supported agriculture) boxes before that have included such odd produce that it's really diffciult to use in family-friendly meals. So this one has been super refreshing. I highly recommend it and if you use my Misfits Market link, you'll get a discount on your first box. Win!


Kitchen Appliances & Gear
Instant Pot
I'm a fan of the 6-quart instant pot for all of my instant potting needs. It took me a long while to be convinced to get this gadget. After all, I already had a clay cooker, slow cookers, and several other handy dandy kitchen appliances. Plus, wasn't it mostly for meat? My friend Jill finally talked me into it with tales of boiled eggs, perfect rice and the beauty of the yogurt function. And I've never looked back. It's. So. Beautiful. Now I have two. I got myself the smaller, 3-quart, not long ago so that I could also cook rice at the same time that I could a main dish in the big boy.
Slow Cooker
If you don't have a slow cooker, you NEED one to live. Yes, there is a slow cooker function on the instant pot. But honestly, it's not the same. First of all, the high function is more like low on the slow cooker, so you won't be able to do the high function at all. And also, the ceramic is great for slow, even heating.
Food Processor
Food processors, sure, they aren't necessary…but man are they awesome! I have this one (though in silver, but for some reason, the red one is so much cheaper, lol, so you know, I'd get that one right now, but you do you!)
Measuring Cups
A good set of measuring cups and spoons. It's so little but really important. This would be great as part of a gift set with some kitchen towels or an oven glove!
Silicone Bags
Reusable bags are crucial for me! I don't like using single-use plastic. But I need to freeze and store stuff. So, these suckers are amazing.
Box Grater
So important! You don't want to rely on your food processor all of the time. You need to be able to quickly shred little things like 1/2 cup of cheese and one small zucchini and such. Get yourself a quality box grater.
High-Speed Blender
Especially if you want to make sauces or smoothies, you need a high-speed blender like a Vitamix or a Blendtec. It's especially handy for making tikka masala sauce!Reusable bags
The Super Easy Vegetarian Slow Cooker Cookbook
Want vegetarian and vegan recipes you'll love? Check out my first cookbook! I'm so excited about it and I hope you'll love it. You can find more information about it right
HERE
.