As an Amazon Associate, I earn from qualifying purchases.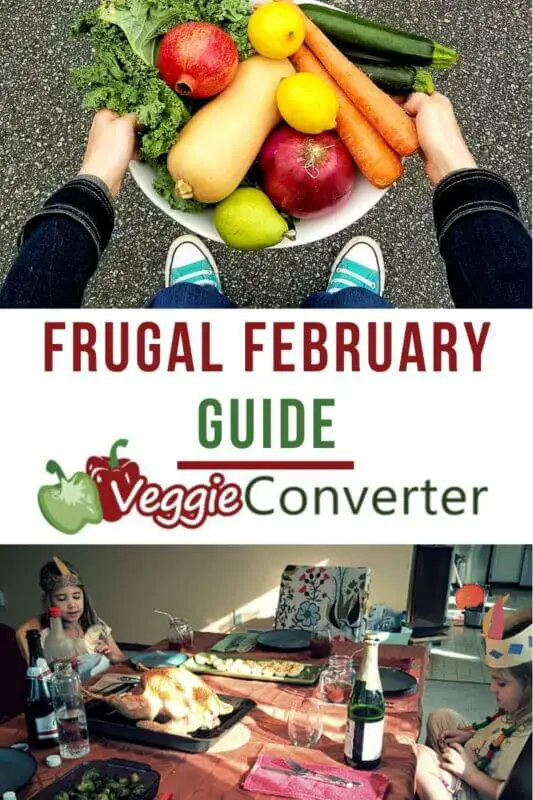 Challenging yourself to a Frugal February is the perfect way to get a handle on your spending, especially if you overdid it during the holidays. Take the 28 (or 29) day challenge to limit your spending and gain control over your financial future.
Why February?
As the shortest month of the year, February is a great way to get started on the financial stability or financial independence journey. And, since it's just a short time after the holidays, when you may have overspent, it's perfectly positioned to help you stop the fiscal bleed!
According to The New York Times, Frugal February is a time when splurging on restaurant meals is out and dining at home is totally in. It's cold and if you spent a lot on travel or gifts during the holidays, dining in more often is a simple way to save money.
How does Frugal February work?
It's the shortest month of the year, so tighten those belts and (if you have it) tackle that credit card debt. You can make it for 29 days! You've got this.
There are really just a few major steps:
Stop unnecessary spending.
Pay down debt.
For the advanced class: invest for retirement.
In most cases, don't worry about #3, investing for retirement, unless you're out of debt. Now, if your employer matches your 401k contributions at work, you want to strongly consider having the amount up to the employer match taken out of your paycheck, even if you're in debt. That's free money! Get it.
Stop unnecessary spending
What does that mean for you? There's nothing that's 100% unnecessary for everyone. If spending on a date with your husband once a month is necessary for your relationship and your sanity, keep it up!
But if you feel like you can stay healthy and skip going out as part of your date this month, go for it. Choose a frugal date, like a picnic in the park or a hike instead.
Track your spending with a budgeting app like Personal Capital. Just seeing what and where your money is going is a huge step toward figuring out your next steps.
If you're just starting, check out these ideas for starting your Frugal February. For us, Frugal February means no dining out for the month and going over our existing bills to see if we can get better deals elsewhere or cut spending with the bills we have, aka a bill audit.
We don't have cable television, but we do have internet, streaming services, cell phones, and all of the usual utility bills most families have. In February, I look over our bill trends and, if necessary, research other companies that provide the same service.
At that point, I contact the original company to see if they'll match the lower cost. If they don't match, I thank them for their time and let them know I'd like to schedule a disconnection in two weeks. Sometimes this triggers magical matching powers, and I'm done and have a lower bill. If it doesn't, I have a couple of weeks to install a new service and/or call back to extend my current service once I have a new connection date.
I also have business expenses. In February, I audit these as well through the same process.
Now, your Frugal February will look totally different from mine. You might start packing your lunch for work instead of eating at the nearby restaurants. You might skip extras like coffee or drinks.
But you might not. That's the most important part about this month. You have to figure out what's right for you and your family.
Definitely collect any gift cards you have on hand and spend those this month if you need a break from your non-spending ways. It's a great time to cash them in before you lose them to the junk drawer. And you get to go out even though you're being frugal for the month! Win-win.
And, roll your change if you have it around the house. Cash that in and either put it toward paying down debt or use it for fun money.
Try a pantry challenge, too. That's one of my favorite goals for February. Not only do I save money on my grocery budget, but I also clean out my cupboards and freezer. Win!
Check out food, self-sufficiency, and financial independence to get more ideas on curbing spending. But the main points are to trim the fat out of your budget. Anything that's unnecessary stop spending on it for 28 (or 29) days for Frugal February.
After that, who knows? Maybe you can make it another month and another and be able to pay down your debt and be on the road to financial independence faster!
Get creative and figure out new ways to have fun for free. You can do it! Try making some DIY stuff for a fun ladies' night if you're into that, too. Make some Valentine's DIY gifts for your honey bunny while you're at it.
Pay down debt
There's no right or wrong way to pay down debt. My favorite way to get started, if you're new at debt payoff, is the Dave Ramsey method.
Here are the basics:
Cut up your credit cards (I ignore this and use credit cards for points for free travel now, but if you're just getting started and are in serious financial distress, this might be the way to go.)
Start a $1,000 emergency fund. Many Americans don't have enough savings for a relatively minor emergency. Prioritize this fund so you're not tempted to dip back into the credit card habit.
Pay down your debts by one of two methods: snowball or avalanche.
Snowball is the method of paying off the the smallest debts first, which gives you a sense of accomplishment. Pay the minimum required payments for your remaining debts until you move on to that debt as your snowball.
Avalanche is the method of paying off your highest interest rate debts, no matter how large or small the debt is. Once each highest-interest debt is paid (while paying minimum payments on the others), you move on to the next.
Avalanche doesn't give you that quick burst of satisfaction like snowball. But, fiscally, it's the sound decision to save the most money in interest payments.
You know yourself best. If you need the motivation of paying off the small debts and Xing them off of your list, go with snowball. If you can handle the delayed gratification, go for avalanche.
For some, paying down debt may involve debt consolidation. So, look into your borrowing options.
Invest in your retirement
Here's the stage I stumbled on for a long time. As an independent business owner, I couldn't invest in my employer's 401k or IRA once I "retired" from journalism and started off on my own.
What I should've done, in hindsight, is immediately start a self-employment 401k or, at minimum, invest my annual IRA maximum once I got out of debt. But at least I got to my financial independence path, eventually.
Now, I do both. I max out my IRA, my husband's IRA and my individual 401k. And, my husband invests the maximum at his job in his 401k, that job is also paying for him to go back to school since he was laid off from his 18-year corporate job. That saves us more money for our retirement funds as well.
And, once he finishes school, he'll be able to invest even more if he attains employment related to his degree. Win-win.
So, step one for you? If your employer matches your 401k or IRA, immediately have the required employee match drafted from your paychecks throughout the year. You'll get that free money in the employer match rather than leaving that on the table. It's part of your benefits package, do whatever you can to obtain it.
Once you've got your match, you'll want to place the rest of your income minus expenses toward debt payoff. Once you have that paid off, switch that money back into investment and max out your 401k or IRA contributions at work.
Next, max out your personal IRA contribution. If you're a spouse that does not work outside the home, you can still start a spousal IRA and contribute the maximum to that IRA for yourself and as long as you aren't above certain income guidelines, your spouse can max out his or her IRA in addition to the workplace retirement program.
Check out the IRS guidelines for more information on contributions. In 2023, the maximum income for married filing jointly taxpayers to get the full deduction for their traditional IRA contribution is $116,000. After that, it's prorated through $136,000. After that, your contribution gets $0 in tax deduction.
What are you doing for Frugal February this year?
This is a sponsored post; however, all opinions are my own.
Love this post? Pin it, please!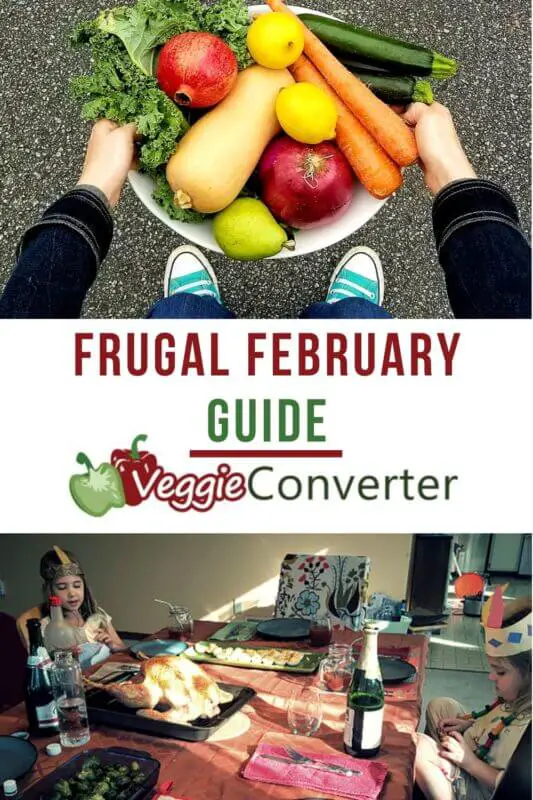 The Super Easy Vegetarian Slow Cooker Cookbook
Want vegetarian and vegan recipes you'll love? Check out my first cookbook! I'm so excited about it and I hope you'll love it. You can find more information about it right
HERE
.