As an Amazon Associate, I earn from qualifying purchases.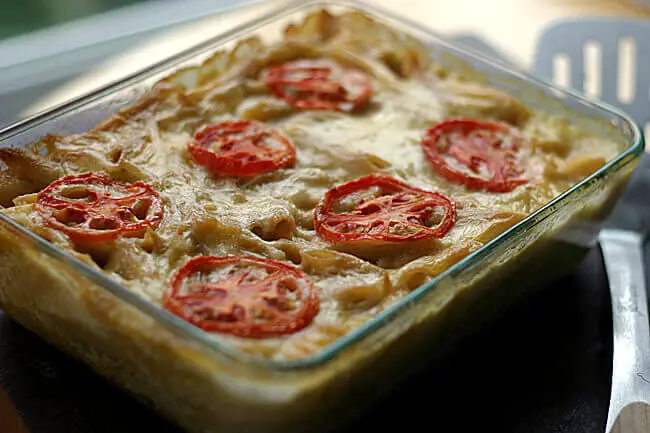 Mac and Cheese is a vegetarian potluck favorite. But it doesn't always have the prettiest presentation. The simple, yet somehow I've never tried it before solution? Place slices of tomato on top prior to baking for color contrast and bonus nutrients!
I found this little gem of a suggestion in one of my thrift store cookbook finds, the 1965 edition of the Better Homes and Gardens New CookBook. You probably know the one. It has a red and white picnic tablecoth-esque cover and is sprial-bound. Notably, this is also where I came across the notion of Everyday Cupcakes! What? Cupcakes every day! (Recipe to come.) But I digress.
Mac and cheese is, unsurprisingly, one of our family favorites, but we love to try new recipes since our toddlers'  tastebuds are always changing. This one is pretty simple, but the tomato slices add that extra flourish for potlucks or company's-coming-over nights.
The kids and adults all loved it. Though Bug, our 4-year-old, refused to eat the tomatoes once they were cooked. She helped with the cooking and ate the extra tomato slices raw, and agreed the mac and cheese looked especially fancy. But when it came time to eat the cooked tomatoes, she politely asked her little sister if she would like to eat hers for her.
Goose, 2, ate double tomatoes without complaint and Bug ate nearly her own weight in macaroni.
Fancy Homemade Mac and Cheese with Tomatoes
Ingredients
1 1/2 cups elbow macaroni
3 Tablespoons butter
3 Tablespoons flour (we use whole wheat white)
2 cups milk
1/2 teaspoon salt
2 Tablespoons dried minced onion
2 cups shredded cheese (we use Mexican blend)
1 Roma tomato, sliced and sprinkled with salt (optional)
Method
Preheat oven to 350F.
Cook macaroni in boiling water.
Melt butter. Blend in flour, mix in milk, salt, onion, and whisk in cheese. Pour sauce over macaroni in a baking dish. Top with tomato slices and bake 35 minutes.
The Super Easy Vegetarian Slow Cooker Cookbook
Want vegetarian and vegan recipes you'll love? Check out my first cookbook! I'm so excited about it and I hope you'll love it. You can find more information about it right
HERE
.