As an Amazon Associate, I earn from qualifying purchases.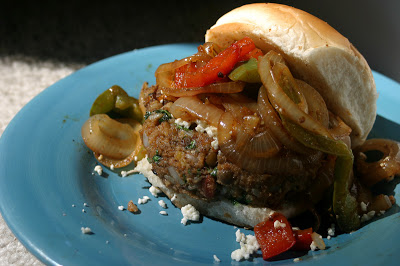 Day 284.
Yum, fajita burgers! I love making burgers with the Lentil and Rice Ground Beef Substitute mix and I'm completely enamored of veggie fajitas. I could eat carmelized vegetables all day. So this recipe from Closet Cooking is a shoo-in for me. I, of course, swapped out the ground beef for the Lentil and Rice Ground Beef Substitute mix.
But I also used a trick I learned from making these Japanese Sliders to make the burgers a little juicier, by adding diced onion and bread crumbs that have soaked up unsweetened soy milk to the burger patty. It really makes a difference.
I also usually do sliders (about half the size of a regular burger patty, so it'd be 8 here instead of 4), mainly because it is a lot easier to keep a slider veggie patty together in the pan than a full-size burger patty. I went with the full patty here just for kicks and because I knew these would go fast with no leftovers (sliders are also easier to store and reheat). To further veganize it, beyond my usual veggie-converting, I used dairy-free cheese. You could also use a cashew cheese sauce.
Fajita Burgers
Adapted from Fajita Burgers.
Ingredients
1/4 cup soy milk, unsweetened
1/2 cup breadcrumbs, fine
1/2 cup onion, finely diced
1 tablespoon taco seasoning mix #1
1/4 cup salsa
1 tablespoon Worcestershire sauce
About 1/2 cup masa or breadcrumbs to coat patties
2-3 tablespoons cilantro, chopped
1 tablespoon oil
2 onions, sliced
1 green bell pepper, sliced
1 red bell pepper, sliced
1 tablespoon taco seasoning mix #2
1/4 cup water or broth
4 buns
1/2 cup (or 4 slices) dairy-free pepper jack cheese, shredded (optional)
Directions
In a small bowl, combine breadcrumbs and soy milk. Let sit for 5 minutes until breadcrumbs soak up soy milk.
Mix the breadcrumb mixture, "beef," diced onion, taco seasoning mix #1, salsa, Worcestershire sauce and cilantro.
Form into 4 (or 8 for sliders) patties 3/4 inches thick. Turn patties onto a masa or breadcrumb-dusted plate. Flip to coat. Place on griddle with a bit of olive oil and about 3-5 minutes per side (2-3 for sliders). Set aside, covered.
Meanwhile heat 1 tablespoon oil in a pan over medium-high heat. Add onions #2 and peppers and saute until tender, about 4-7 minutes. Mix in the taco seasoning mix #2 and water and simmer until most of the liquid has evaporated.
Assemble burgers, topping with fajita veggies and cheese.
The Results
Holy moly. Even without the delicious fajita-style veggies on top, these patties are delicious. The cilantro and onions are so fantastic. And then you top it off with caramelized onions and peppers. Stinking fantastic. The kids thought these were awesome (they split an adult-sized burger and asked for seconds). And the husband and I liked them so much we were a little resentful about giving up part of that fourth burger to the kids. 🙂
This post is shared at·Tuesdays at the Table, Tuesday Night Supper Club,·Slightly Indulgent Tuesday,·Tasty Tuesday, Delectable Tuesday,·Tempt My Tummy Tuesday,·Delicious Dishes,·Real Food Wednesday, Recipe of the Week, Hearth and Soul,Tutorial Tuesday, Tasty Tuesday and Tasty Tuesday.
The Super Easy Vegetarian Slow Cooker Cookbook
Want vegetarian and vegan recipes you'll love? Check out my first cookbook! I'm so excited about it and I hope you'll love it. You can find more information about it right
HERE
.