As an Amazon Associate, I earn from qualifying purchases.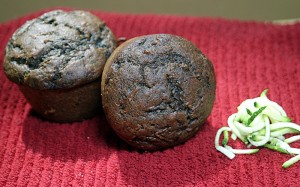 I'm so excited to let you all know about a project I'm participating in, The WonderMill Grain Mill Challenge. As part of the series, I received a WonderMill grain mill. Awesome! And you can have a chance to win one, too! I've been milling up all kinds of fancy flours with my WonderMill and I'll be posting at least 6 recipes over at the WonderMill Grain Mill Wagon over the next two months. My first recipe is up today and is a variation on my Mom's Gooey Chocolatey Zucchini Brownies. As the original recipe says, you can add two eggs and make it into cake. I did that and I also swapped out half of the flour for black bean flour milled in my fancy new WonderMill. I'm so excited about the bonus protein my mostly vegetarian family will get from bean flours. Please go check out my Chocolate Black Bean Zucchini Cupcakes over at WonderMill. And I can't wait to share my milling experiments with you throughout the next two months.
The Super Easy Vegetarian Slow Cooker Cookbook
Want vegetarian and vegan recipes you'll love? Check out my first cookbook! I'm so excited about it and I hope you'll love it. You can find more information about it right
HERE
.