As an Amazon Associate, I earn from qualifying purchases.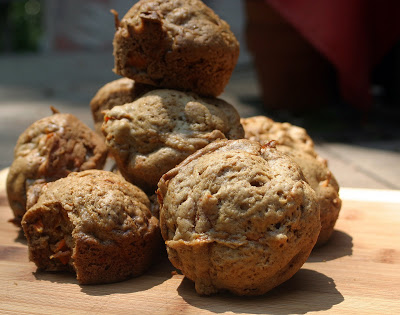 Day 176.
Carrot spice muffins are on today's agenda. Our daughter's first birthday cake was the Betty Crocker carrot cake from my now used and abused Betty Crocker Bridal Edition Cookbook.
I'll sheepishly admit it was pretty pristine for the first few years of its life. But since then, and especially since our kids were born, it's been through the wringer. There are so many awesome recipes (vegetarian and easily convertible meat recipes). But, in an effort to eat more of what we make, we've been doing a lot of "minis" lately. Rolls of sourdough instead of loaves, mini shepherd's pies, and the like. So, while the carrot cake recipe holds a special place in our hearts, I'm going to tinker with it to make us some delicious muffins.
Carrot Spice Muffins
Adapted from Carrot Cake.
Makes 18 muffins
Ingredients
3/4 cup granulated sugar
1 cup vegetable oil
3 eggs*
2 cups all-purpose flour
2 teaspoons ground cinnamon
1 teaspoon baking soda
1 teaspoon vanilla
1/2 teaspoon salt
3 cups shredded carrots (5 medium)
1 cup coarsely chopped nuts (I used pecans)
Cream Cheese Frosting (optional)
1 package (8 oz) cream cheese or soy cream cheese, softened
1/4 cup butter or margarine, softened
2 to 3 teaspoons milk or soymilk
1 teaspoon vanilla
4 cups powdered sugar
*Vegan converter:
Applesauce, mashed bananas or Egg Replacer can stand in for the eggs here
Directions
Preheat oven to 350.
Mix together eggs, oil and sugar with electric mixer on low speed. Add all other ingredients except carrots and nuts. Blend together on low speed (batter may still be a bit lumpy). Stir in carrots and nuts. Use an ice cream scoop to fill muffin tin cups about 2/3 full.
Bake 30-35 minutes.
The Results
Mmm…delicious. Just the right amount of sweetness (I reduced the sugar from the original) and spice. I really don't think these need the cream cheese frosting. They are so tasty on their own. But I always wait to frost anything. You never know when a dairy-free person is going to come by. Plus, some muffins tend to get soggy after they're frosted.
This post is shared with What's for Lunch Wednesday and Muffin Tin Monday.
The Super Easy Vegetarian Slow Cooker Cookbook
Want vegetarian and vegan recipes you'll love? Check out my first cookbook! I'm so excited about it and I hope you'll love it. You can find more information about it right
HERE
.