As an Amazon Associate, I earn from qualifying purchases.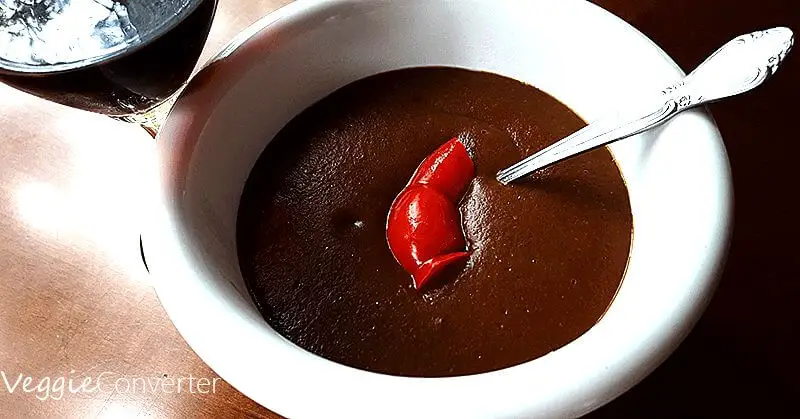 Why? You might ask, would I tinker with one of our family favorite recipes and one of my post popular posts and remake our delicious, delicious Slow Cooker Black Bean Soup recipe? Well, it's simple. I fell in love. I fell in love with my VitaClay. Today I have a fresh pot of Homemade Yogurt goin' on. But earlier in the week I made my fantastic black bean soup. I went to make the soup and the clay pot was just lurking there, waiting for me to use it and experiment. So I did! And it was SO good, I had to repost this version. Yum.
This go-around it only took about an hour and a half to cook and I used bell peppers, a lot of them, instead of my usual scraps of veggies from the crisper combo. This was primarily because the peppers (orange, red and yellow) were about to go bad. And yes, I'll still make the veggie scraps and crisper clean out version again (because, hey, I'm frugal like that). But I'm definitely making this intentionally this bell peppers way in the future. It was incredible. Don't worry, if you don't have a VitaClay yet, you can still do this in a slow cooker. Just cook it on low for 8 hours.
Clay Pot Black Bean Soup with Sweet Peppers 
Ingredients
6 cups black beans, cooked, undrained
2 large tomatoes, chopped
2 cups Easy Slow Cooker Vegetable Broth
4 sweet bell peppers, chopped (I used red, orange and yellow)
1/2 cup carrots, chopped (I used the remains of a bag of carrot chips)
1/4 cup salsa
Salt and pepper, to taste
Top with extra salsa and chopped cilantro (optional)
Method
Add all ingredients to your VitaClay, except optional toppings. Set to SOUP setting and cook for about an hour and a half. Carefully blend with an immersion blender until smooth. Or, you can toss the whole batch in a blender instead. Top with salsa and chopped cilantro if desired.
The Results
Everyone loved this version just as much as the last, if not more. The bell peppers just made the flavor richer and heartier. And the fact that it was done in less than two hours but still tasted slow-cooked ain't half bad, either. Yum! And, BONUS, it makes a great dip, too. And that's good, because this makes a metric crapton of soup. You know, about 16 overflowing cups of soup. How do I know that you ask? The VitaClay holds 16 cups of cooked rice and that baby was chock full of soup.
Check it out pre-blend. Yum….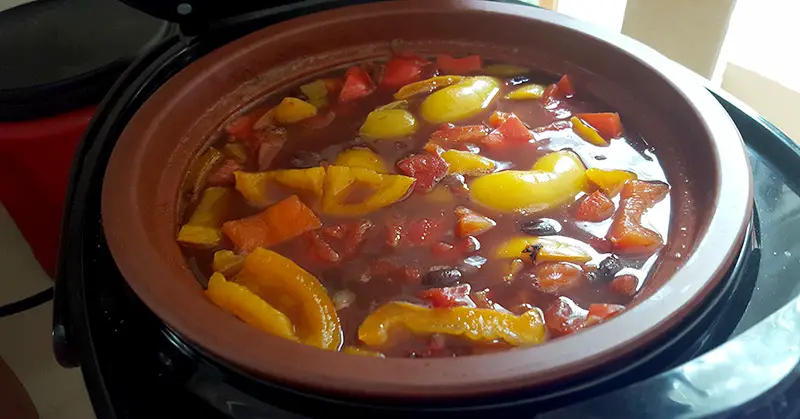 Love it? Pin it, please!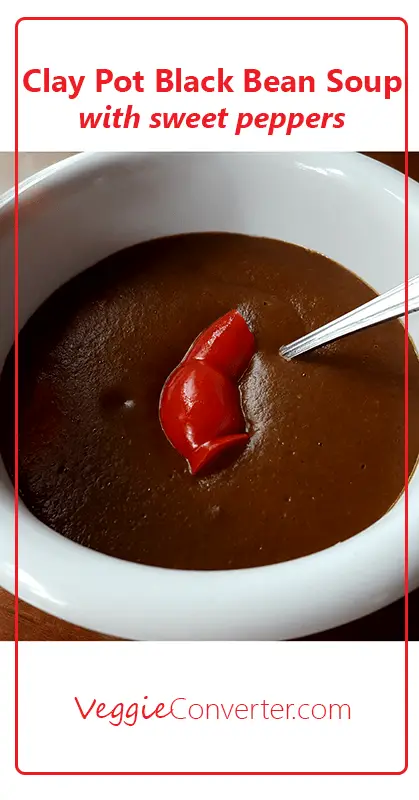 The Super Easy Vegetarian Slow Cooker Cookbook
Want vegetarian and vegan recipes you'll love? Check out my first cookbook! I'm so excited about it and I hope you'll love it. You can find more information about it right
HERE
.