As an Amazon Associate, I earn from qualifying purchases.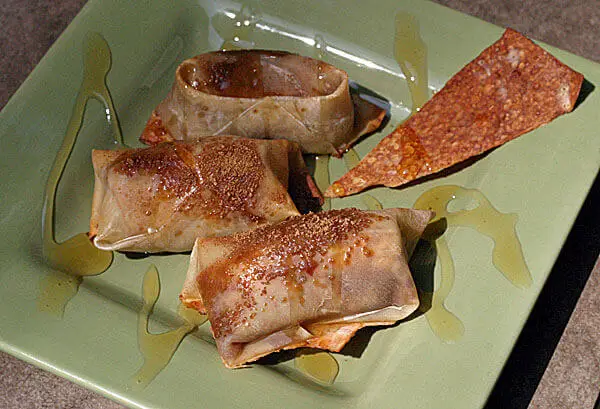 Happy National Banana Lover's Day! Appropriately, today's This Week's Cravings theme is BANANAS and I'm sharing my delicious tiny recreation of Mexican restaurant banana chimichangas! And, all you need for these Banana Mini Baked Chimichangas is 4 ingredients to make these beauties for your plate. Plus, they're baked instead of fried, so you can feel good about that dollop of vanilla ice cream you serve alongside. 🙂 All you need is a few bananas, cinnamon and sugar (I use sucanat) and some egg roll wrappers (which you can make yourself if you prefer).
These delicious treats bring back many fond memories with my dad, who, like myself is a HUGE Mexican food fan, and loves to try the banana chimis at every new restaurant. They were often disappointing, but sometimes you'd find one filled with delicious hot banana and topped with gooey chocolate, honey and home-whipped cream. Drool. I'm hoping Dad can still eat these, since he's unfortunately developed a bit of a banana sensitivity in his old age. 🙂
These are for you, Dad!
Banana Mini Baked Chimichangas
Ingredients
4 bananas, cut into thirds
1/4 cup sucanat (like this) or brown sugar
1 Tablespoon cinnamon (or to taste)
12 egg roll or spring roll wrappers
milk or soy milk
honey or maple syrup
Instructions
Preheat oven to 350.
Cut bananas and dip in milk.
Place one banana slice in each wonton wrapper. Drizzle with cinnamon and maple syrup.
The Results
Oh. My. Goodness. How can these be so simple, yet so fantastic. I LOVED them. Mr. Meaty isn't a fan of bananas, weirdo, but he thought they were OK, for bananas. The kids thought they were awesome! These are a definite repeat treat!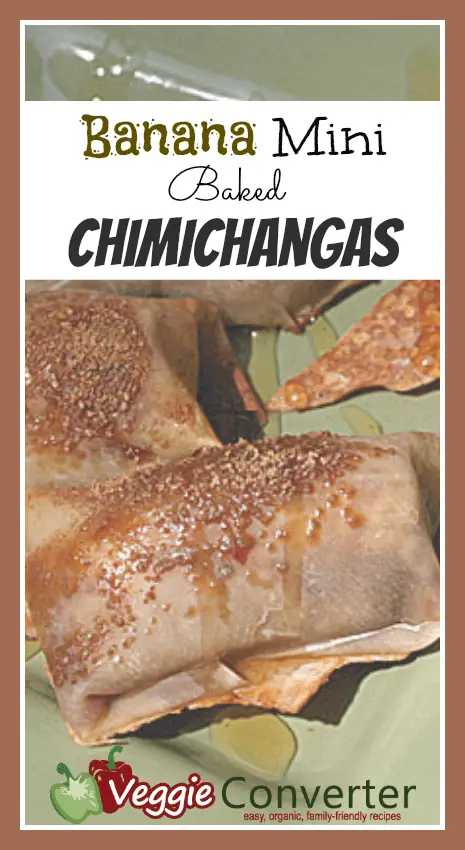 My This Week's Cravings co-hostesses are: Tina at Moms Crazy Cooking and Nicole at The Daily Dish. As hostesses, we will try our hardest to visit as many of the links we can. We all enjoy your links and look forward to gathering recipes each week.The party has a few SIMPLE RULES and all of the themes for the entire year are list here on the THIS WEEK'S CRAVINGS tab at Moms Crazy Cooking. Plan ahead, check out the weeks you want to make sure to link up or just browse them to see what's going on.
If you are a regular link-up we're excited to see what you made this week. If you are new please read and follow the simple rules, so that everyone can enjoy the linky party! If you forget to follow the theme, your post will be deleted. Please don't feel hurt, just come back and link up a recipe that follows the theme. Thanks a million, we look forward to blogging with you!
This post is shared at·Mouthwatering Mondays, Melt in Your Mouth Monday, Cravings, Just Another Meatless Monday,·Homemaker Monday.·Meatless Mondays,·Mingle Monday, Mangia Monday, Made By You Mondays and Monday Mania.
The Super Easy Vegetarian Slow Cooker Cookbook
Want vegetarian and vegan recipes you'll love? Check out my first cookbook! I'm so excited about it and I hope you'll love it. You can find more information about it right
HERE
.