As an Amazon Associate, I earn from qualifying purchases.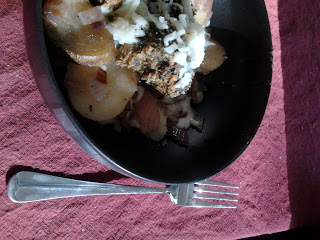 Day 105.
We're having this amazing vegetarian pesto chicken on garlic potatoes dinner tonight! One of our favorite family recipes is Pesto Chicken and Sweet Potatoes Layered Dinner. I love the sweet potatoes and my husband loves the pesto chicken.
So, when I saw this recipe at 21st Century Housewife I thought we might have the best of both worlds. Potatoes my husband will eat and an easy to replace chicken that I would like. We both love pesto and garlic, so this is sure to be a treat.
Pesto Chicken on Garlic Potatoes
Adapted from Pesto Chicken on Garlic Potatoes.
Ingredients
1 bag Quorn Chicken tenders (or 4 C chicken replacement of choice)
¼ C pesto of your choice
2 to 3 tablespoons olive oil
1 medium red onion, finely chopped
½ C "bacon" bits
2 C small potatoes, washed and scrubbed but not peeled
1 to 2 garlic cloves
1 red pepper, de-seeded and chopped (optional)salt and pepper to taste
Directions
Put the potatoes in cold water and bring to a boil on the stove top. Parboil for ten minutes, then drain and set aside. When they have cooled slightly, slice each potato in two to three slices.Mix the pesto with about 1 tablespoon of the oil and brush it on the "chicken"  and heat through.
Meanwhile, heat the remaining oil in a frying pan and gently sauté the onion for a few minutes. Grate in the garlic, add the "bacon" and continue to fry. Add the red pepper, if using. Now toss in the potatoes and continue to cook until they are tender and lightly golden. Add salt and pepper to taste.
When the chicken is cooked, serve it on top of the potatoes.
The Results
Mmm…those potatoes are fantastic. I actually chose to marinate the "chicken" in the pesto, but I'm not suggesting that in the recipe here. It was actually too pestoy for me. What? Insanity, right? I couldn't taste the yummy garlicky potatoes through all that pesto. So I suggest just brushing on the chicken as suggested here. Unfortunately, I still think the potatoes are the best part and the husband still prefers the chicken. But at least we both can eat the whole meal.
This post shared at Fat Camp Friday, Crafty Friday, Friday Favorites, Potluck Friday,,·Frugal Fridays and I'm Lovin' It.
The Super Easy Vegetarian Slow Cooker Cookbook
Want vegetarian and vegan recipes you'll love? Check out my first cookbook! I'm so excited about it and I hope you'll love it. You can find more information about it right
HERE
.