As an Amazon Associate, I earn from qualifying purchases.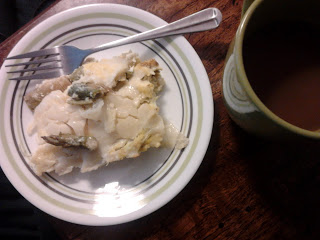 Day 121.
Oh man, asparagus frittata! I received a bunch of asparagus in my CSA box this week, which already went into my Roasted Veggie Pizza earlier this week. I pulled some of the leftover roasted asparagus to make this delicious-sounding frittata.
The original calls for spinach and feta cheese. Yummy ingredients, for sure, but not ones I keep on hand. So, instead, I used mozzarella and some chopped Napa Cabbage (also from the CSA box). Mmm.
Asparagus Frittata
Adapted from Asparagus, Spinach & Feta Cheese Frittata.
Ingredients
3 large eggs
1 tsp. olive oil
1 clove garlic, minced
6 asparagus spears, tough ends removed and cut into 1 inch pieces
1 C Napa cabbage, chopped
2 green onions, sliced
1/4 C shredded mozzarella cheese
House seasoning, to taste
Directions
Preheat the oven to 350 degrees F. In a small bowl, whisk together the eggs. Set aside.
In a small frying pan, heat up the olive oil. Add the garlic and cook for 1-2 minutes on medium heat. Add the asparagus, cabbage, and green onions. Cook until the asparagus is tender and the cabbage is wilted (about 5-7 minutes). I actually just cooked the onions and cabbage in this step, as my asparagus was already fire-roasted.
Pour the egg mixture over the asparagus, spinach, and onions. Sprinkle in half of the cheese. Cook for about 5-6 minutes on low heat.
When the eggs are mostly set, sprinkle the fritatta with the rest of the feta cheese. Put the pan into the oven. Bake for 10-15 minutes, or until the fritatta is firm and the cheese is melted.
Cut fritatta into wedges and serve.
Serves 4
The Results
Mmm…creamy and crunchy with that yummy snap of the cabbage and asparagus. I love this recipe. As with any frittata, you could change just about anything and get away with whatever flavor combination you enjoy.
What are you having for Sunday Brunch, Breakfast or Lunch?
This post is shared at·Sundays at One Food Club, Just Something I Whipped Up, Penny Worthy Project, Cookbook Sundays·and·Potluck Sunday.
The Super Easy Vegetarian Slow Cooker Cookbook
Want vegetarian and vegan recipes you'll love? Check out my first cookbook! I'm so excited about it and I hope you'll love it. You can find more information about it right
HERE
.