As an Amazon Associate, I earn from qualifying purchases.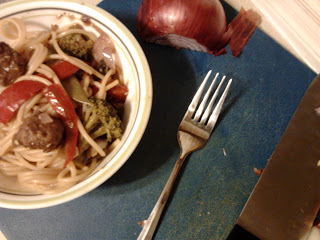 Day 98.
It's Gluten Free Friday (for Lent) and I'm trying Gluten Free noodles for the first time in this recipe. We're having vegan sweet and spicy beef with our noodles. More of our CSA box veggies went into this dish: sugar snap peas and red onions among them.
If you're not gluten-free you could use prepacked "beef" strip substitute in this vegan sweet and spicy beef recipe also. But the vegan/gfree homemade version works great here. I also subbed in molasses for honey because the recipe was otherwise so close to vegan. If you're not doing vegan, honey would work well, too.
Sweet and Spicy Beef with Noodles
Adapted from Sweet and Spicy Beef with Noodles.
Ingredients
1 pound steak strips or equivalent vegan "steak strips"
1/2 Tbsp. sea salt
1 tsp. black pepper
1 Tbsp. olive oil
1 C sliced mushrooms
1/2 red onion, chopped
2 garlic cloves, minced
1/2 red pepper, sliced
1/2 jalapeno pepper, chopped and seeds removed
1 C sugar snap peas
1/2 pound gluten free pasta noodles
1 Tbsp. soy sauce
2 Tbsp. molasses
pinch of red pepper flakes
Directions
Season "beef" with salt and pepper and set aside. Bring pasta water to a boil and cook pasta according to directions. While cooking pasta, heat olive oil in a large saucepan and add peppers and onions. Saute until soft, after 5-6 minutes. Add in peas, mushrooms and jalapeno and cook for 3 more minutes. Stir in garlic and cook for 30 seconds. Remove veggies from pan and set aside in a bowl. Drain pasta if finished and set aside.
Turn the heat to medium-high, and add "beef." Add molasses and soy sauce, then stir in noodles and vegetables. Sprinkle with a pinch of red pepper flakes and serve. Season with salt and pepper if desired.
The Results
Oooh. This is delicious. The gfree noodles are pretty tasty, they just taste a little chewier to me than regular noodles. I love the sauce and the veggies are among my favorite combinations. Delicious.
What are you giving up for Lent and what's your favorite Lent dish so far?
[amd-zlrecipe-recipe:122]
This post shared at Fat Camp Friday, Crafty Friday, Friday Favorites, Potluck Friday,·Frugal Fridays and I'm Lovin' It.
The Super Easy Vegetarian Slow Cooker Cookbook
Want vegetarian and vegan recipes you'll love? Check out my first cookbook! I'm so excited about it and I hope you'll love it. You can find more information about it right
HERE
.