As an Amazon Associate, I earn from qualifying purchases.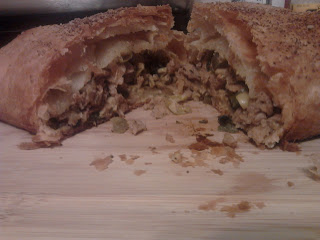 Day 114.
Beef Wellington is one of those "family favorites" I've never actually had. But it seems intriguing so today we're having vegan beef wellington. There are, I'm sure, a million different variations. But this one, filled with yummy olive tapenade, sounds delicious to me.
Beef Wellington
Adapted from Beef Wellington.
Ingredients
1 Tbsp. olive oil
1 package seitan
2 sheets frozen ready-rolled butter puff pastry (25 x 25cm), thawed
Montreal steak seasoning, to taste
1/2 cup olive tapenade
Gravy:
1.5 Tbsp. butter
1 Tbsp. plain flour
2 C mock beef stock (2 C veggie stock with 1 Tbsp. nutritional yeast)
1/2 C red wine (I sub cranberry juice)
1 tsp. dried tarragon
Directions
Season "meat" with steak seasoning, to taste.Make a rectangle with the pastry sheets. First connect 2 whole sheets together by placing 1 edge on top of another. Brush the edges with olive oil and press the edges to seal.
Preheat the oven to 400F and slightly grease the baking tray with oil.Spread 1/4 of the tapenade on the pastry.
Place the beef and spread the remaining tapenade on the beef. Gently fold the pastry over the beef to wrap it. Tuck the sides of the pastry to secure it. Cut the excess pastry as needed.
Place the beef Wellington on the greased tray seam down. Brush it with olive oil and spinkle on kosher salt and bake it for 1 hour or until the pastry is golden brown.
Remove from the oven and transfer the beef Wellington to a serving plate.
To prepare the gravy, let butter and melt for 2 minutes while stirring. Add the flour and 1/4 cup of stock and continue to stir for another 3-5 minutes or until it bubbles.
Remove from the heat and pour in the remaining stock and the wine gradually while stirring constantly.
Add the tarragon and place the saucepan over medium heat. Cook for another 5 minutes or until it thickens.
Stir occasionally and scrape the bottom if the pan to avoid burning. Place the gravy on a jug or small bowl. Serve warm with the beef Wellington.
The Results
Too salty! All that olive tapenade completely overpowers the beef. Bummer. The pastry is fantastic and all the individual ingredients were great. But I'd say definitely choose a very low sodium homemade tapenade recipe if you try this recipe.
Once I added the gravy and some sour cream, it was pretty yummy, but it pretty much tasted like a bowl full of olives before that.
Not a bad thing, but probably not very Beef Wellingtony.
What are you having for Sunday Brunch, Breakfast or Lunch?
This post is shared at·Sundays at One Food Club, Just Something I Whipped Up, Penny Worthy Project, Cookbook Sundays·and·Potluck Sunday.
The Super Easy Vegetarian Slow Cooker Cookbook
Want vegetarian and vegan recipes you'll love? Check out my first cookbook! I'm so excited about it and I hope you'll love it. You can find more information about it right
HERE
.