As an Amazon Associate, I earn from qualifying purchases.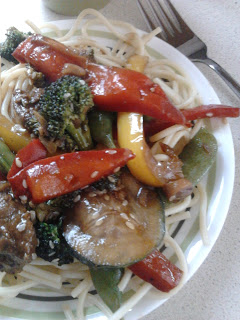 Day 92.
We received a few super yummy items in our CSA box last week: snap beans, broccoli and cucumber. So, I thought I'd try out a beef stir fry with a variety of veggies.
My husband loves cucumber beef, so I incorporated that with some Asian meals I love (at least the veggie versions): broccoli beef and sesame chicken. What I ended up with was a Vegan Asian Sesame Beef and Vegetable Stir Fry. It has a sweet and spicy, nutty flavor.
Vegan Asian Sesame Beef and Vegetables
Ingredients
Vegan Steak Substitute (or a pre-packaged version like Gardein's Beefless Tips)
4 C snap beans
1 head broccoli florets
2 bell peppers, sliced
2-3 cloves garlic, minced
1 onion, diced
2 C vegetables of choice (I used sliced cucumber and mushrooms)
1/4 C sesame seeds
1/4 C Dale's seasoning (or soy sauce-based marinade of choice)
1/4 C olive oil
1 C water
2-3 Tbsp. sesame oil
2 Tbsp. molasses
House seasoning, to taste
Red pepper flakes, to taste (optional)
2-3 Tbsp. cornstarch
Rice or noodles, to serve
Directions
Toast sesame seeds in sesame oil, adding onion, garlic and bell peppers.Meanwhile, marinate vegetables and "beef" in remaining ingredients (except cornstarch).
When onions begin to brown, add marinating veggies and beef to pan. Bring to boiling. Reduce heat to medium-low and cook for 20-25 minutes.
Add cornstarch to thicken, allow to simmer an additional 5 minutes. Serve over rice or noodles.
The Results
Mmmm. Yummy. I love this "beef" and the blend of Asian veggies is fantastic. The molasses and sesame oil really kicks up the sauce.
This post is shared with What's for Lunch Wednesday and Muffin Tin Monday.
The Super Easy Vegetarian Slow Cooker Cookbook
Want vegetarian and vegan recipes you'll love? Check out my first cookbook! I'm so excited about it and I hope you'll love it. You can find more information about it right
HERE
.