As an Amazon Associate, I earn from qualifying purchases.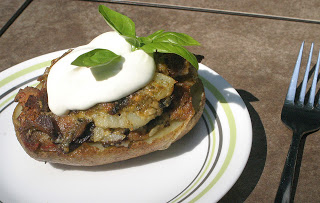 Day 272.
Today is a true leftover creation extravaganza. Not only did I get to use some leftover baked potatoes from the Idaho Sunrise, but I also used the "chicken" and pesto mayo from the Pesto Chicken BLT It seems a little different for a twice-baked potato, but not too far off the charts. I usually do cheese, sour cream "bacon" and chives in mine. This recipe basically replaces the chives with pesto and adds "chicken."
Twice Baked Chicken Club Potato
Ingredients
3 baked potatoes
4 ounces seitan, chopped and seasoned with grill seasoning
2 slices "bacon," fried and chopped
3 tablespoons pesto
3 tablespoons mayo
1 cup cheese, shredded
olive oil, to taste
sour cream topping, if desired
Method
Preheat oven to 400 degrees Fahrenheit.
Halve and scoop centers out of potatoes, placing centers in a medium bowl.
Add remaining ingredients to bowl (except sour cream) and mix thoroughly.
Add the mixture back to the potato boats.
Bake at 400 degrees Fahrenheit for 25-35 minutes.
The Results
Yum. These pesto chicken club potatoes turned out really great. My husband, who did not care for the pesto mayo on the sandwiches, refused to try this one. So I'm not sure how a meat-eater would feel about it. But the kids and I both liked these.
This post is shared with Simple Lives Thursday, Tip Day Thursday, Frugal Food Thursday, Recipe Swap Thursday,Recipes I Can't Wait to Try, Things I Love Thursday, It's a Keeper, Full Plate Thursday, and Ultimate Recipe Swap.
The Super Easy Vegetarian Slow Cooker Cookbook
Want vegetarian and vegan recipes you'll love? Check out my first cookbook! I'm so excited about it and I hope you'll love it. You can find more information about it right
HERE
.