As an Amazon Associate, I earn from qualifying purchases.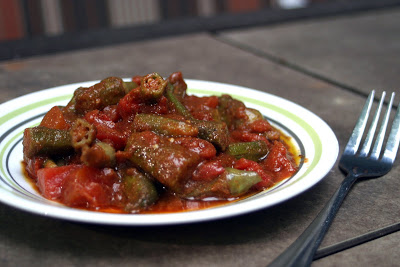 Day 235.
Tomato Bhindi, the delicious Indian-spiced pan-fried okra, uses fresh tomatoes and okra from the garden. It's a great slightly spicy summer treat.
Tomato Bhindi
Ingredients
1 tablespoon Olive Oil
1 pound Okra
¼ teaspoons Salt #1
1 teaspoon Cumin
3 teaspoons mince Garlic, Cloves
1 cup dice Tomato
¼ teaspoons Salt #2
2 teaspoons Chili Powder
½ teaspoons Turmeric
2 tablespoons Coriander, Ground
1 teaspoon Garam Masala
The Results
I absolutely adored this dish. It's one of those Indian dishes I wasn't sure if I could quite do justice at home. But it worked out great. I love the garam masala the subtly spicy sauce. It's more of a flavorful spice than a hot spice. And, of course, tomatoes and okra are such a great combination in various food genres. I'm a HUGE fan of fried okra and this is a nice break from that. The okra is pan fried. So while it's not as crunchy, it still has that delicious caramelization.
This post is shared at·Tuesdays at the Table, Tuesday Night Supper Club,·Slightly Indulgent Tuesday,·Tasty Tuesday, Delectable Tuesday,·Tempt My Tummy Tuesday,·Delicious Dishes,·Real Food Wednesday, Recipe of the Week, Hearth and Soul, Tasty Tuesday and Tasty Tuesday.
The Super Easy Vegetarian Slow Cooker Cookbook
Want vegetarian and vegan recipes you'll love? Check out my first cookbook! I'm so excited about it and I hope you'll love it. You can find more information about it right
HERE
.