As an Amazon Associate, I earn from qualifying purchases.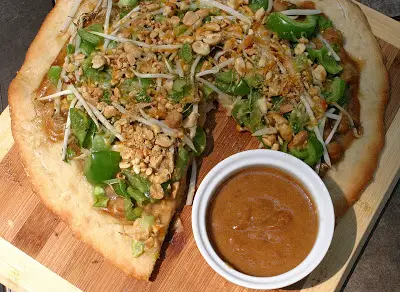 Day 256.
We <3 Thai food in our house and it seems one of the more popular fast food Thai items lately is Thai Chicken…something. Thai chicken sandwiches, pizza, bruschetta…you name it. Closet Cooking has a lot of great homemade Thai recipes and I knew I had to make this one when I saw it. Thai Chicken Pizza.
I made it pretty close to the original: simply replacing the chicken with chickpeas and the carrots with bell peppers (mainly because I just didn't have carrots, but I also prefer the more flavorful bell peppers to carrots on pizza). I also left off the Mozzarella cheese just because I didn't think it needed cheese to be delicious.
Thai Chickpea Pizza
Adapted from Thai Chicken Pizza.
Ingredients  
1 pizza dough (I use Betty Crocker's)
1/2 cup Thai peanut sauce, plus more for dipping, if desired
1 cup cooked chickpeas
1/2 bell pepper, chopped
1 cup bean sprouts
2 green onions, chopped
1/2 cup peanuts, chopped
Directions
Preheat oven to 425. Spread the peanut sauce over the pizza dough. Sprinkle the chickpeas, carrot, bean sprouts green onions and peanuts onto the pizza. Bake at 425 until golden brown on top, about10-12 minutes. 
The Results
Wow. This was surprisingly delicious. I've always been a fan of peanut sauce. And, of course, have wanted to give Thai Chicken Pizza a try even though it sounds a little weird, but haven't since, well, it has chicken on it! The chickpeas work great here. I reduced the amount of sriracha (chile sauce) a bit in the peanut sauce so the kids would still like it. I thought I'd end up adding some back to the adult slices, but it didn't need it.
This post is shared at·Tuesdays at the Table, Tuesday Night Supper Club,·Slightly Indulgent Tuesday,·Tasty Tuesday, Delectable Tuesday,·Tempt My Tummy Tuesday,·Delicious Dishes,·Real Food Wednesday, Recipe of the Week, Hearth and Soul, Tasty Tuesday and Tasty Tuesday.
The Super Easy Vegetarian Slow Cooker Cookbook
Want vegetarian and vegan recipes you'll love? Check out my first cookbook! I'm so excited about it and I hope you'll love it. You can find more information about it right
HERE
.