As an Amazon Associate, I earn from qualifying purchases.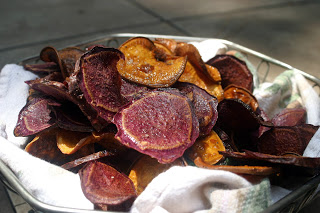 Sweet Potato Chips
Ingredients
Sweet potatoes (I used orange and purple)
Topping options: House seasoning or cinnamon & sugar
Oil for frying
Directions
Slice potatoes as thin as possible. If you're doing this by hand, you almost want to shave the edge of the potato off in order to make the crispiest chips.
Fry in batches for about 3 minutes, until crispy, turning once.
Top with cinnamon and sugar for a sweet chips or House seasoning for savory chips.
The Super Easy Vegetarian Slow Cooker Cookbook
Want vegetarian and vegan recipes you'll love? Check out my first cookbook! I'm so excited about it and I hope you'll love it. You can find more information about it right
HERE
.