As an Amazon Associate, I earn from qualifying purchases.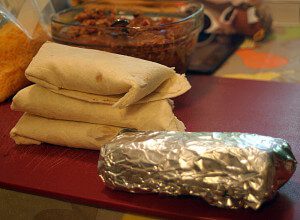 I'm sharing a recipe for Super Easy Freezer Bean Burritos. We love Mexican food, so this is right up our alley. And we used to be HUGE fans of frozen bean and cheese burritos in our bachelor/bachelorette days. But these are so much better, since we can make them exactly how we want them and the ingredients are all whole foods. The best part of this recipe is the versatility. Especially when one of the kids randomly decides something weird like "I no longer like corn, which I used to love in almost everything." We make up a big batch of burritos with different ingredients and mark the outside wrapper with the first initial of the kid's (or adult's) name who likes that style of burrito.
Then, when we have a hankering for burritos, we can just pop these babies out of the fridge and into the oven for a special, made-to-order and ridiculously fast treat.
Super Easy Freezer Bean Burritos
Ingredients
⅓ cups brown rice
⅔ cups vegetable broth
8 ounces diced tomatoes
½ cups diced onion
1 teaspoon minced garlic
½ tablespoons taco seasoning
½ tablespoons Cholula
¼ cups yogurt
8 tortillas
8 ounces refried beans
8 ounces black beans, cooked
5 ounces corn
½ cups shredded cheese
The Results
We all LOVED these burritos. The kids think unwrapping the burritos from the foil is really fun, too. I'm such a fan of the versatility and simplicity of this recipe. I definitely recommend giving homemade frozen burritos a try. Yum!
This post shared at Gallery of Favorites, Fresh Bites Friday, Friday Favorites, Frugal Fridays and I'm Lovin' It.
The Super Easy Vegetarian Slow Cooker Cookbook
Want vegetarian and vegan recipes you'll love? Check out my first cookbook! I'm so excited about it and I hope you'll love it. You can find more information about it right
HERE
.